Akimat building of Nur-Sultan.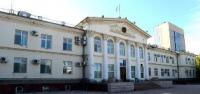 Informative tours of the cities of Kazakhstan.
"Architecture was the main record of mankind"
Victor Hugo.
Sightseeing tour from the city of Nur-Sultan in Aktobe.
The two-story building of the former akimat is located in the central part of the old city. The building was constructed in mid 50-ies of XX century. Since its erection, administrative offices of the city were housed at different times there.
At various times the building housed the City Executive Committee, then –the Virgin Lands Regional Committee of the Communist Party, the City Party Committee and Agricultural Administration. The two-story, rectangular in the plan building, being an exemplar of the "postmodern" architectural style, is arranged symmetrically with respect to the portal with a porch.
The porch is lined with granite and marble. The portal is the main dominant feature of the principal facade and highlighted with semi-columns with bases and capitals, located between the window embrasures, and ends with a fronton with a cartouche.
The powerful in its size fronton is decorated with a decorative bas-relief. The architectural belts delimit a plain surface of the wall on the first and second floors. The pilasters with height of two floors confer the building solemnity and monumentality.
The corbels break out along the edges of the main facade. The window embrasures are rectangular, expect for the window embrasures of the portal of the 2nd floor, where they have a semi-circular finish. The building is plastered, the zoccolo is veneered with different-sized stone plates.
The cornices, earmarked with the dentils, and the floor between the belts are profiled. The hipped roof is with dormer windows and balustrades along the columns.In general, the building has retained its primary appearance, is of the historical and cultural value.
Authority and photos:
https://direkt-15.kz/en/pamyatniki-i-ob-ekty/pamyatniki-istorii-i-arkhitektury/zdanie-akimata-goroda-nur-sultana-1958-god