Akmaya mountain Mangyshlak.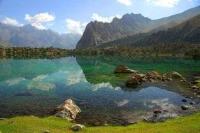 Guided Natural History Tours on Mangyshlak.
"The world is a book and those who do not travel read only one page" 
Augustine of Hippo.
Nature Mangyshlak Tours.
Mountain Akmaya to Mangystau is in the central part of the peninsula of Mangyshlak. 9 kilometers separate it from the gulf Koshak.
Near Akmaya mountain the highway Aktau - fields Karazhambas, Kalamkas and Northern Buzachi runs.
In a word, the road connects Aktau to a right part of the peninsula of Mangyshlak. Mountain Akmaya it is well visible after the journey.
It as the snow-white ship with the only window in a front part continues swimming in boundless steppes of Mangystau.
Mountain Akmaya it is put by cretaceous breeds and it was extended from the northwest on the southeast.
From here absolutely nearby to the valley Torysh.
Also in close proximity to Akmaya mountain there are valleys to Akespe and Usak.
Authority and photos
Alexandr Petrov.