Atyrau kөpіrі in Nur-Sultan.
Architectural monuments in Nur-Sultan.
"If architects limited themselves to fortifying ancient monuments rather than remodeling them, they would have earned the gratitude of all who cherish our past and our historical monuments"
Anatole France.
A trip from Nur-Sultan to Schuchinsk.
On July 1, 2018, a new pedestrian bridge was opened in Astana. The bridge is a gift from the Atyrau region, the opening of which was timed to coincide with the 20th anniversary of the capital. The bridge was created to facilitate the passage of pedestrians from the right to the left bank of the Esil River.
Across the bridge, there are also bicycle paths that start from the park area and end with the promenade on the right bank of the Esil River. From the outside, the bridge resembles fish scales - a symbol of the Atyrau region and consists of triangular glazed cassette panels that create protection against atmospheric precipitation.
In the central part of the annular gathering there is a space made in the form of a tent-canopy of rhomboid figures. The shell of the bridge consists of a decorative structure, which includes 2450 aluminum petals, each of which has a unique shape.
The bridge, designed in the biotech style, is when using organic natural forms in architecture. In the shell of the bridge is the "flower of life" pattern, which meets the Fibonacci law, also known as the golden ratio. From the coast with a park and an amphitheater, a monument to the Caspian sturgeon, symbolizing Atyrau, is installed on the bridge.
The total length of the pedestrian bridge is 313.5 meters, width - 10.5 meters. The construction includes a six-meter pedestrian lane, a three-meter bicycle lane, a 0.5-meter wide safety lane and two 0.5-meter lanes for the railing.
Metal construction weight - 1 920 tons. The decorative elements of the bridge are about 150 tons. The bridge is coated with lithacryl. On both sides of the bridge, from each embankment of the river, steles with the inscription "Atyrau kөpіrі" ("Atyrau Bridge") are installed.
During the construction, 12 trucks were used to test the bridge, each weighing 14 and 18 tons, which corresponds to 200 tons of load.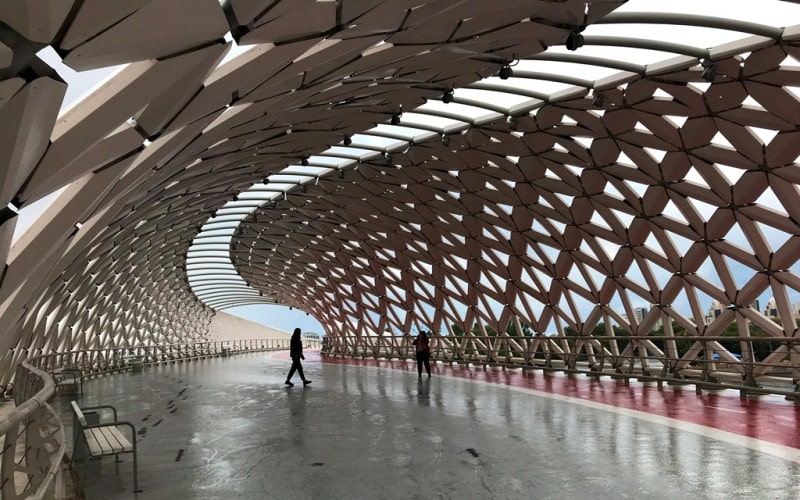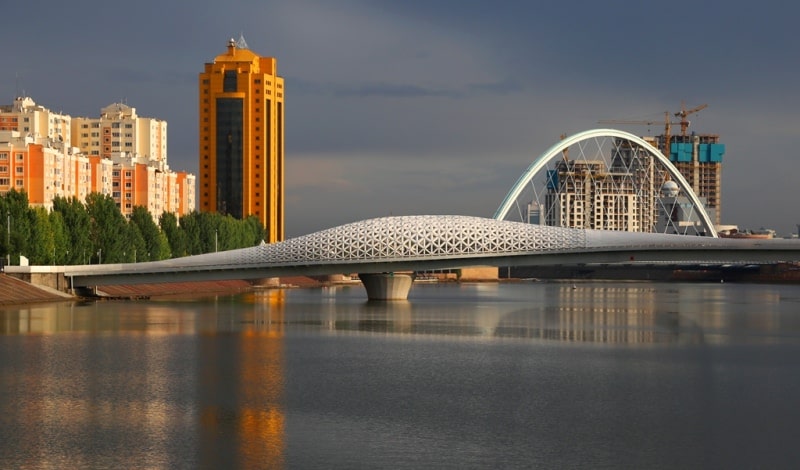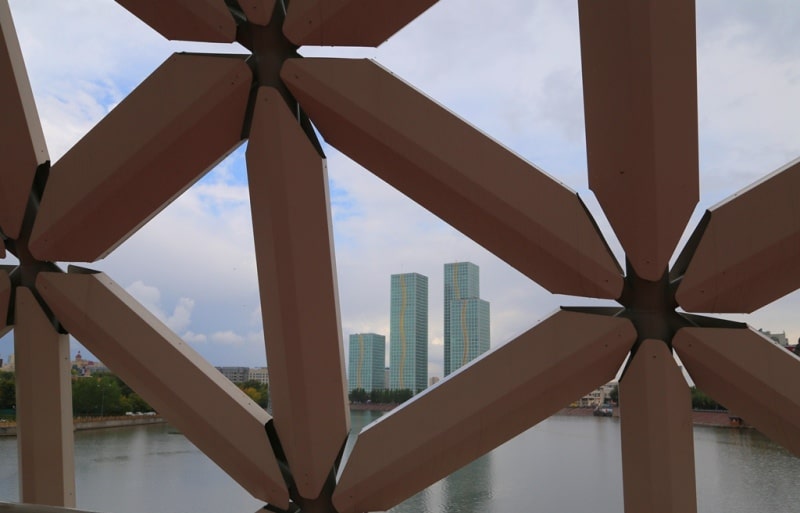 Authority:
https://www.welcometonur-sultan.com/place/most-atyrau-kpiri
Photos
Alexander Petrov.