The Blagovechensky House in Nur-Sultan.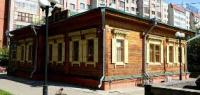 Informative tours of the cities of Kazakhstan.
"A building can become and be beautiful and unadorned thanks to its own proportions"
Johann Joachim Winkelmann.
Tours from Nur-Sultan to Petropavlovsk.
Residential building of Dr. F.I. Blagoveshchensky is located in the old part of the city, at the intersection of S. Seifullin and M. Auezov streets. The house gained fame during the period of residence and work of Dr. F.I. Annunciation.
In the Soviet period, the building was occupied by the Central Regional Accounting School. Today in the house is the administration of the museum of S. Seyfullin. In the history of the city, the monument turned out to be firmly connected with the name of Dr. Fedor Ivanovich Blagoveshchensky (1881 - 1938).
In this building, Dr. Blagoveshchensky lived and received patients for 37 years. Being a major specialist in various fields of medicine, he was universally recognized among colleagues and patients. F.I. Blagoveshchensky was the head of the Akmola city hospital, a teacher at the Mariinsky School.
Due to his outstanding performance, patience and endurance, his constant desire to replenish medical knowledge, the Blagoveshchensk doctor gained extensive experience in therapy, ophthalmology, obstetrics, gynecology, surgery, treatment of tuberculosis, and became a large specialist in terms of local conditions.
In 1908, he graduated with honors from the medical faculty of Tomsk State University with the rank of doctor. From November 13, 1908 to February 24, 1909 he worked as an ordinator of the Tomsk Hospital and Therapy Clinic.
Then, as a scholarship holder of Western Siberia, he was appointed to the post of district doctor of the 14th medical site of Akmola district. From 1909 to 1930, Blagoveshchensky served as the head of the Akmola city hospital, worked as a doctor and teacher of anatomy, physiology and hygiene at the Akmola Mariinsky Women's School, at the Teacher's Seminary, and from 1919, he worked as a doctor and hygiene teacher in a 4-year mixed school. In addition, from 1910 to 1926 he had the duties of a forensic expert in Akmolinsk.
In the years 1923-1924. He worked as a doctor at the Akmola children's detention center. From February 25, 1929 to August 3, 1930 he worked as the head of the Akmola Tubdispanser and senior consultant of the district hospital.
The house is a monument of wooden architecture and reflects the eclectic style characteristic of architecture of the late 19th and early 20th centuries. This is a wooden blockhouse, sheathed and arranged on the basement, with a corridor planning structure.
Authority:
https://direkt-15.kz/en/pamyatniki-i-ob-ekty/pamyatniki-istorii-i-arkhitektury/zhiloj-dom-doktora-f-i-blagoveshchenskogo