Cladding of the Green Mosque in Nur-Sultan.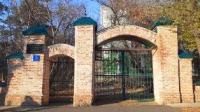 Tours in the cities of Kazakhstan and Central Asia.
"The architect-urban planner is called upon to create the best conditions for the lives of not only contemporaries, but also future generations"
Ivan Vladislavovich Zholtovsky.
Tours from the city of Nur-Sultan to Zhezkazgan.
The stone fence of the mosque that existed at the beginning of the century is located in the central part of the city on Abay Avenue. The mosque was located on the former Church Street (now the corner of Abay Avenue and the Republic).
The population called it - "Tatar" or "green." It was called "Tatarskaya" because it was built on the initiative of Hadji Mursalim Mirkamalov, the rural municipality of Zhanybek Baybekov (great-grandfather of Saken Seifullin) at personal expense, the richest merchant of Akmolinsk, a large cattle man, merchant of the 2nd guild Nurmukhamed 1895.
And the unspoken name "green" was due to the green oil paint with which it was painted. After the closure and perestroika, the House of Pioneers was located in it for a long time. Subsequently, when the House of Pioneers was moved to the central square in the former building of the city party committee, the remains of the wooden mosque were removed.
In the 50s. Twentieth century on this place built a three-story residential building. Only a fragment of the fence of the "green" mosque, represented by brick pillars and metal forged openwork lattices, has survived to this day.
The total length of the preserved plot is 71.5 m. Forged decorative metal gratings are arranged on a high continuous base between the plastered ones. square in section, brick columns. The brick pillars of the gate and the gates of the main entrance are connected by arches.
The brick columns of the fence have metal hip coatings.
Authority:
https://direkt-15.kz/ru/pamyatniki-i-ob-ekty/pamyatniki-istorii-i-arkhitektury/ograzhdenie-zelenoj-mecheti-1895g