Devkesken-kala.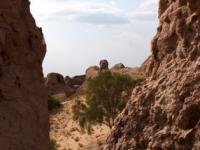 Group inclusive tour in Turkmenistan.
A great town of Devkesken, Devkisken or Deu-Kesken-kala is situated about 60 - 70 km from Kounya-Urgench in the north-west and is the remains of a lively medieval town Vazir that stood once above the channels of Amudarya. 
The ruins of the town are situated on the steep and high stone plateau surrounded by the deep moat and walls. At the corner of the plateau the remains of a great castle has been found where one could trace the relief of the beautiful cylindrical facades that were typical to the architecture for the early medieval pre-Arabic period.
Town of Vazir must have lost its significance in XVI century. On the territory of town there is a number of mausoleums of burned bricks and stone that dates back to the XV century. In the middle of XVI century Vazir was the residence of one of the Khoresmian khans named Sultan Ali.
However successor of sultan had moved the khan's residence to Urgench. It had happened in 1573 when bifurcation of waters of Amudarya had been observed and the river had directed a channel to Aral Sea. The ruins of the separate constructions have been discovered as well and among them one can see oviparous cupola of architectural ensemble of Seid-medrese typical to XIX c.
Cult-memornalny complex. End of XV - XVI century. Ustyurt plateau, mound-Dev Keske (medieval Vaznr). Wazir was one of the most significant; cities runs through the northern Kara Kum way. Here are preserved buildings.
Three Nameless mausoleums and mosques. The main mausoleum, square in plan, with sections of angles, where arranged poluvosmigrannye niche is covered dome, a high portal on the main façade and arched niches on the other.
The dome is based on the octahedron sails, with the transitional console vent brick. The overlapping of the portal arch and niches on the facade are a polukupolki on thyroid sails. Two other Mausoleum, rectangular in plan, portal-dome.
They used to sail the console. Mosque (very ruined) backyard: the courtyard surrounded by arched arcades on columns, walls and pillars of stone, arched-dome ceiling made ​​of brick.
Authority:
On materials of information department of the State committee of Turkmenistan on tourism and sport. "Religious and spiritual monuments to Central Asia". Author M. Hashimov. Saga publishing house, 2001.
Photos:
Alexander Petrov