House of merchant Egorov in Nur-Sultan.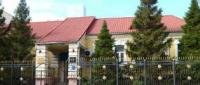 Photo tours to cities of Kazakhstan.
"Art is, in essence, a science, that is exactly what we should see in architecture"
Etienne Louis Boulet.
Tours from the city of Nur Sultan to Pavlodar.
House of the merchant D.V. Egorova (Military Commissariat of the city of Nur-Sultan) dates from the end of the XIX century. The monument is an example of residential architecture of the late XIX century. It belonged to the Akmola merchant D.V. Egorov. In the building for many years there was a city military registration and enlistment office, then a recruiting station.
Today the building is again occupied by the military commissariat. Partnership of the merchant D.V. Egorov and his brother Egorov P.V. occupied two sections of the lower floor of the building of the Siberian Trade Bank.
Here was the "Rennes cellar" of the partnership, in which expensive grape wines were sold and fresh fruit did not disappear from the shelves all year round. The building is made in the technique of patterned brickwork, it is an extended, rectangular in plan, volume of a later origin.
It reflects the "brick" style of architecture, characteristic of the late XIX - early XX centuries. The building was repeatedly reconstructed, during which it lost its original appearance (1999, 2003). In 1999, the building was reconstructed, as a result of which its original appearance was distorted.
Decorative brickwork of the cornice, interfloor belt and casing, as well as the plane of the facades were hidden by plaster. Increased roof height. The metal roof of the hip roof has been replaced by tile. Prior to significant changes, the facades were richly decorated with brickwork.
The protruding elements of the building - a cornice, an interfloor belt, platbands - gave the building a sense of festivity, decorativeness, and at the same time, the spirit of past centuries was sensitively felt. D.V. Egorov is a famous Akmola merchant and tradesman of the early twentieth century.
Little is known about the life and work of D.V. Egorov. In 1910, together with A.I. Skvortsov built the first cinema in Akmolinsk - Meteor. In 1913, together with his brother P.V. Egorov erected another cinema, which was given the name - "Progress".
Authority:
https://direkt-15.kz/ru/pamyatniki-i-ob-ekty/pamyatniki-istorii-i-arkhitektury/dom-kuptsa-d-v-egorova