Kalalygyr ancient settlement I.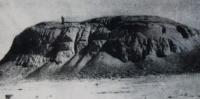 Sights of Kunya-Urgench.
Kalalygyr I, Ayrytam, the ancient settlement of the V-IV century of century BC in 40 km to the southwest Dashoguz, on a height at the southern coast of the ancient course of Daudan, almost near the ancient settlement Kunyauaz.
The largest monument across the territory in an ancient oasis of Khorezm (700 x 1000 meters). Its rectangular area is strongly blocked by sands now. Within the walls of fortress, strengthened by towers, was available four gate protected by difficult labyrinths and bastions.
Life of inhabitants of the ancient settlement was concentrated in the long, surrounding all its territory narrow vaulted corridor hidden in the thickness of powerful fortifications. At the western wall, from the inside, the grandiose palace building (the size of the plan 80 x 80 m) with two internal and two external court yard was located.
On perimeter of the yards about 30 various rooms were located. Halls of the palace had the flat overlapping supported by columns from which constructions partially remained. This building, also as well as "inhabited" walls, remained unfinished as the ancient settlement was left by inhabitants.
The fortress which arose during domination in Khorezm Akhemenidids was necessary to them for ensuring the control over large irrigating systems of South Daudan. The attempt of its construction could log in the actions reflected in Herodotus story about irrigational policy of Akhemenidids tsars.
Authority:
On materials of information department of the State committee of Turkmenistan on tourism and sport. "Religious and spiritual monuments to Central Asia". Author M. Hashimov. Saga publishing house, 2001.