Kalalygyr ancient settlement II.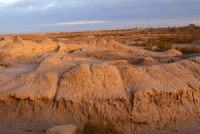 Tours across antique ancient settlements of ancient Khorezm.
Kalalygyr II, the antique ancient settlement of Khwarezm in 10 km to the west Kalalygyr I, at the left coast of the ancient course of Southern Daudan. Represents almost correct isosceles triangle (length of side walls of 195 m).
With the arc-shaped basis going on edge of a height which from North side the rectangular entrance complex in the plan which is going down on a slope adjoins. Fortifications remained on this the site to a mark 4,5 - 5 meters, in them - a shooting corridor.
The most monumental construction in fortress - the so-called round temple with a diameter of 24 m built, as well as external fortification, on a two-meter artificial platform. Walls of the temple had loopholes, from the North it is adjoined by a massive entrance tower, oval in the plan.
This cult center was thrown after the total defeat of fortress which was followed by heavy fire which traces are noticeable not only on walls, but also on all archaeological stock. The monument is dated the middle the IV beginning of the II and centuries BC.
Authority:
On materials of information department of the State committee of Turkmenistan on tourism and sport. "Religious and spiritual monuments to Central Asia". Author M. Hashimov. Saga publishing house, 2001.