Memorial of Afghan warriors in Nur-Sultan.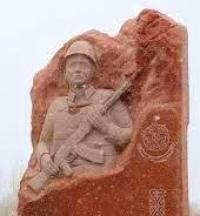 Tourist routes of Nur-Sultan.
".. the world is not blood, but friendship and love Should we protect"
Sax Hans.
Description of tourist routes in Nur-Sultan.
A memorial to the Kazakhstanis who fell in the Afghan war. The monument carries a popular memory of the fallen Afghan warriors. The color of the granite plates symbolizes the spilled blood of young children. On the polished granite slabs the names of all 761 dead soldiers - Afghans are imprinted, indicating the year when their life was interrupted.
The red color of the granite memorial symbolizes the spilled blood of young soldiers and officers from Kazakhstan. On both sides of it are inscribed the inscription "Memory from the Flames of Afghanistan", laid out in voluminous polished letters in two languages.
The name list on each pylon is preceded by a year that interrupted the life of soldiers. On the right and left wings there is the inscription "Memory from the flame of Afghanistan" in polished volume letters in Russian and Kazakh.
The opening ceremony of the memorial took place on May 7, 2000, on the Day of Defender of the Fatherland. For ten years, the Afghan warriors have been raising funds to purchase expensive material. We must remember and honor the memory of our soldiers and officers who died in Afghanistan.
They were sent to a distant country to provide "international debt" to the people of Afghanistan. No one chose the service. They acted on orders, fulfilling their military duty. On the land of Afghanistan killed about 15 thousand Soviet soldiers.
22 thousand Kazakhstanis participated in the war, of which 761 people were killed and buried on Kazakh soil, and 21 went missing. In this distant land, 62 Akmolins piled their heads and two went missing. Veteran organizations in Astana and throughout the republic are engaged in important and noble work.
They educate today's youth in the spirit of love and devotion to their homeland. Authors of the project: Slidenko V.V., Taysengirov G., Naychuk A.V., chief architect of Astana - B.F. Dosmagambetov. The contractor is the Bars company, Shortandinsky district, Akmola region.
An interesting fact: the memorial was lit by Father Konstantin, who himself fought in a distant country. The monument is made of granite. The memorial is located on X street. Munaitpasova, corner of Abylai Khan Avenue.
Authority:
Guidebook to Astana.