Monument to Justice in Nur-Sultan.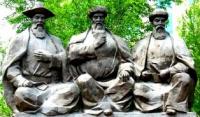 A great trip to Kazakhstan and Central Asia.
"Death with glory and honor is not a sacrifice, but a feat"
Konstantin Fedin.
Tourist travels in the nature of Kazakhstan.
Monument to Justice - a composition, commissioned by the Supreme Court, depicting the majestic posture of famous aksakals - Aiteke-bi, Kazybek-bi and Tole-bi, is located on the corner of Omarov-Beibitshilik streets in the city of Nur-Sultan.
The monument embodies the continuity of centuries-old traditions - national unity and justice. Majestic posture, smart noble faces Kazybek-bi, Aiteke-bi, Tole-bi personify justice. The monument was erected by the three wise men in 1998 near the building of the city court.
The author of the monument is Mansurov Murat Amangeldievich. Thanks to their wisdom, about 300 years ago, disparate clans, zhuzes and tribes were united in a single struggle against the Dzhugar militia, which did not allow the Kazakh people to cease their existence as an ethnic group.
Creativity bi-seshen (judge-speaker) of the XVI - XVIII centuries was a product of the time, in its own way reflecting the reality of that time. Among the bi-sheshen, in terms of the importance of their state and public activities, in terms of the power of oratory and poetry, three were particularly distinguished - Tolebi Alibekuly, Kazybek Keldibekuly and Aiteke Baybekuly, who received recognition not only in Kazakhstan, but also in Russia, Khiva, Dzungaria.
Authority:
"Astana guide and Akmola region".
Photos
Alexander Petrov.