Plane IL-18.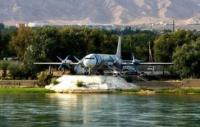 Sights of Khudjand.
Plane-memorial IL-18 established on right protect the rivers of Syr-Darya in the end of 70th years of the last century, is one of places of interest of city of Khudjand. In Khudjand till 1979 plane-memorial IL-18 was used as a simulator for rescuers.
Then he has been established as a monument on coast of Syr-Darya. Long time as a monument the plane was used as cafe-ice-cream where ice-cream submitted in metal plateaus on a high leg.
The cafe enjoied the big popularity at local residents. Some adventurouses even made jumps from a roof of the plane to Syr-Darya. And planes of this model as monuments have been established in 17 cities of the former Union, including in Khudjand.
Authorship:
The Tourist guidebook on monuments of Khudjand. 2012.