Railway station in Nur-Sultan.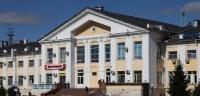 Travels in the cities of Kazakhstan.
"To understand whether a road is difficult, you need to walk along it at least a little"
Tours from the city of Nur-Sultan to Atyrau.
The monument is connected with the history of railway construction, participation of Akmola citizens in the Great Patriotic War and development of virgin and fallow lands. The first railway of Soviet-era was built in 1920 -1922, the area Petropavlovsk - Kokchetav.
ue to the necessity of the development of deep regions of Kazakhstan and corn collection, the area was extended in 1926 - 1931 through the station Resort Borovoye and Akmolinsk to Karaganda. The total length exceeded 700 km.
The first train arrives to Akmolinsk town in November 8, 1929. In October 1930 the Akmolinsk station was taken into operation and it had 7-through tracks, 3 short dead ends. From the beginning of the 30s the Akmolinsk station had functioning single-floor barrack-like building that served as the premise of the station.
In the 50s of XX century, a new time begins for Akmola and entire North Kazakhstan region. A huge number of young people were sent to Akmolinsk town to work on virgin lands as a result of September plenary session of the CPSU Central Committee.
The first party of Young Communists and young people arrived in Akmolinsk from Alma-Ata on March 2. A ceremonial reception of the delegation coming from the central regions of the Soviet Union was held on fifth of March.
More than 20 thousand people came to Akmolinsk only in the first half of 1954. June 13, 1958 in accordance with the order of the Minister of Railway, the Turkestan-Siberian, Karaganda Railways were abolished and the Kazakh Railway was organized.
It became the largest in the USSR railway having a length of more than 11 thousand km and it consisted of 15 branches and united all the latitudinal and meridional lines between Kazakhstan and Siberia, Ural, the Volga region, Kyrgyzstan and Central Asia.
The main grain thoroughfare of Kazakhstan was Akmola road department. Every night 12-15 double wheat routes were sent in the hot days of the virgin harvest. About 9 million tons of grain loaded at the railway stations that are located within the virgin lands region in 1960.
And 7 million tons of these were on the land of Kazakh railway. A new two-storeyed building of the railway station was built in 1961-64 in the Akmolinsk station. A three-storyed auxiliary building, which had cash- offices, was built in the place of the old single-floor building that had been built in the 30's.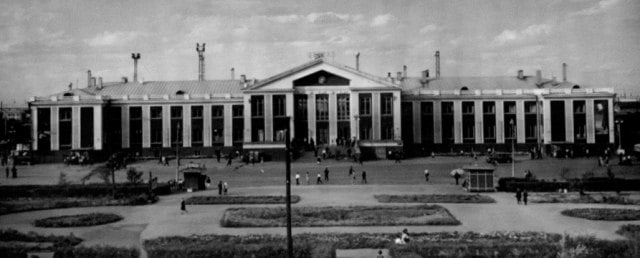 Authority:
https://direkt-15.kz/en/pamyatniki-i-ob-ekty/pamyatniki-istorii-i-arkhitektury/vokzal