Tasharvat caravanserai.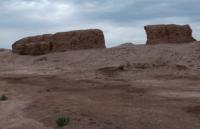 Archaeological monuments in vicinities of Balkanabad.
Caravanserai ruins Tasharvat are located in 38 kilometers from the city of Balkanabat, the administrative center of Balkan Region, at the spring of the same name. The caravanserai represents rectangular strengthening with a stone wall, ruins of a residential building are located inside.
The caravanserai location on one of ancient caravan tracks around Big Balkhan gives a reason to think that it, perhaps, there was one of numerous branches of the Great Silk Way. At the time of functioning of the Great Silk Way the caravanserai was of great importance for passing by caravans in which they did a stop on the way of the long wanderings.
Near a caravanserai there was a is grove of a karagach in 100 trees. The first mentions of strengthening Tasharvat are found in 1871 - 1872. Archaeological researches showed that else at the end of the XIX century in a structure there lived people.
Authority:
On materials of information department of the State committee of Turkmenistan on tourism and sport. "Religious and spiritual monuments to Central Asia". Author M. Hashimov. Saga publishing house, 2001.