Abdulla-khan Madrasah.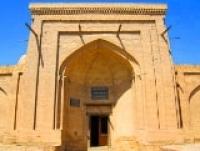 Excursions on madrasah Ichan-Kala in Khiva.
"Abdullahan was a man who trusted the words of any person. On the slander of Mir Ahmed (Khan's military leader), he shed innocent blood of several people. He was a very rash, impatient man. But he valued friendship very much, loved justice, was brave and brave. There were no sons left of him, there was only one daughter, who was given in marriage to Abdulaziz Tury (Tsarevich). After the death of Abdullahan, his mother, in order to preserve the name of her son, built one madrasah"
Kamiljana Hudaybergenova "Genealogy of Khiva Khans" ("Khiva Honlari Shazharasi").
What to see in Khiva (our tips for 2019).
Madrsah Abdulla-khan of construction of 1855, it is located to the West from mosque Ak and from the southern party from madrasah Kutlug Murad inaka. It has been constructed by mother Abdulla-khan in 1855 in honour of son Murad Inaka who has been killed in the age of 17 years in fight with Turkmens.
portal of a building, madrasah it is deprived ornaments, its structure is very simplified. To the north at an input one part mionserai, and in the south two parts settles down. The design madrasah contains some deviations from standard model of construction madrasah.
If to look from above on madrasah, it is a rectangular with the angular towers, extended with the east on the West. In madrasahе there are two inputs, that also mismatches traditions. At present in premises madrasah the exposition of a museum of the nature of Khoresm is placed, having for an object to acquaint visitors with the rich nature of the Khorezm province, with vegetative and fauna, a relief, a climate.
In a museum it is possible to receive many useful data on mountains Sultan Uvais, about delta of the river Amu-Darya, about fauna of deserts of Kara-Kum and Kyzylkum, about useful kinds of plants. The exposition is created in 1960.
Last exposition a department is spent in 2008. The useful area of an exposition of 180 square meters.  
Authority:
«Khiva city and legends» the tourist guidebook across Khiva.