Altai Mountain Adventures.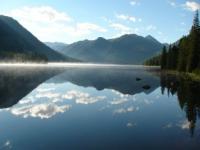 Tours to unique nature of East Kazakhstan.
"As soon as man seeks to penetrate the secrets of nature - in which nothing is secret and it is but a question of seeing - he realizes that the simple produces the supernatural" 
Honore de Balzac.
Eastern Kazakhstan ​Tours to Altai.
From my precarious position I watch in awe as the sun peeks over the top of the eastern mountain ridge, bathing the landscape in a soft, golden light. Below me the forest emerges from shadow and glows with a dozen different shades of green and yellow.
With jagged mountain peaks and snow-dusted ridges as a backdrop, it is an autumn panorama that takes your breath away. Where am I? Right now, I'm perched 15 metres above the ground on a rickety watchtower platform at the Klimovka Recreation Centre, a "tourist base" hidden away in the foothills of the western Altai Mountains in Eastern Kazakhstan.
To get here my companions and I first flew to the East Kazakhstan Region's capital of Oskemen (Ust-Kamenogorsk), then drove north 2 - 3 hours to the old mining town of Ridder, called Leninogorsk during the Soviet era.
Once a prosperous community famous for its polymetallic deposits, Ridder fell into disrepair during 'he hard times immediately following Kazakhstan's independence, when many young people left to go to the bie cities in search of work.
However, the town is now beginning to come back to life and tourism is seen as important to its future success. Its location makes it a convenient gateway to the stunning taiga (forest) environment of the mountains beyond.
Located 32 kilometres north of Ridder, the Klimovka Recreation Center is a perfect example of how successful tourism can be in this corner of the country. The road to the resort winds through hilly terrain, passing picturesque wooden villages populated by ethnic Russians and Kazakhs who live off the considerable bounty of the land.
They farm bees to make delicious honey, harvest mushrooms and berries from the lush woodlands and grow a cornucopia of crops from the fertile soil. We arrive at Klimovka as the sun dips below the horizon.
We are met in traditional fashion by the staff, one of whom holds a tray containing the ever-present bottle of vodka with glasses to toast new guests, as well as a round, tasty, cake-like loaf of bread from which everyone tears a piece. We are shown to our wooden cabins with warm, cosy interiors heated by log-fired stoves.
There are twin cabins for couples, 4 and 6 berth cabins for families and groups, and three newly built luxury suite cabins (each with two bedrooms). Two of these high-end cabins are Executive class.
The third is the President's Cabin, which sports its own sauna, plunge pool, silver cutlery in the kitchen, fine Italian sofas and the latest high-tech entertainment system.
Klimovka's owner and manager is Vladimir Klimov, a barrel-chested man who started the centre as a hunting lodge in 1998, catering to European and Kazakh hunters looking to bag deer, wolves and bears in Altai's mountain wilderness.
This is still a popular pastime during the winter hunting season, although it is an expensive hobby since there are now strict quotas to ensure that the various species are not overhunted. Klimov was one of the first to see the potential of adventure and tourism in his homeland.
He built additional cabins and began to offer horse trekking trips, hiking, cross-country skiing and other activities for visitors wanting to immerse themselves in the natural beauty of the landscape. Klimov also built a tiny, narrow Russian Orthodox church for the local people.
Constructed from wood rather than stone, plaster and tiles, the church is absolutely beautiful, and fits in perfectly with its glorious surroundings. There is just time before supper for us to have a brief journey on horseback in the center's main paddock.
Horses are available for all levels of riders, beginner to expert, and our appetite is whetted as we amble along the edge of the forest just as twilight blankets the landscape and the moon rises in the night sky.
After dinner we have been promised a trip to the banya, the resort's Russian-style bathhouse that includes a wet-steam sauna room and cylindrical steam bath.
Birch-twig switches hang with the washing materials on the wall, and are used by bathers who lightly beat each other to stimulate blood circulation. Afterwards we stand outside on the porch and let the cold mountain air revitalise us after the sleep inducing effects of the heat inside - a marvellous experience.
I rise at dawn the following morning and climb the watchtower for my first spectacular view of my surroundings. Klimovka lies just 10 kilometres south of the West Altai Nature Reserve, 56,000 hectares of pristine coniferous forest and mountain tundra where 564 plant species have been recorded.
Here, along the border with Russia, a number of mountain chains come together, the Ivanovskiy, Lineyskiy, Koksinskiy and Kholsun Khrebet (ranges), and within dense forests of Siberian cedar, fir, spruce, larch, aspen and birch live 120 types of bird and 30 mammals, including Siberian brown bears, elk, large maral deer, argali (Asian) wild sheep, wolves, wolverines and sable. Little wonder that this is a nature lover's dream come true.
Although horse trekking, hunting and in winter - skiing are the most popular sports in the Altai, other adventurous activities are possible, like rafting on the nearby White Uba River (Belaya Uba) and mountain biking, which is growing in popularity.
However, possibly the most exciting activity is to take a helicopter tour along the Russian border northeast to Mt Belukha, the sacred double-peaked mountain that is the spiritual heart of the Altai.
Along the way you'll stop in meadows filled with wildflowers, next to remote high-altitude lakes, and at the base of mountain glaciers (weather permitting) - the stunning aerial views of granite-bouldered mountainsides, snow-capped peaks, pure, cerulean waters, small bee-keeping farms and remote village communities beside rushing rivers result in a truly memorable experience.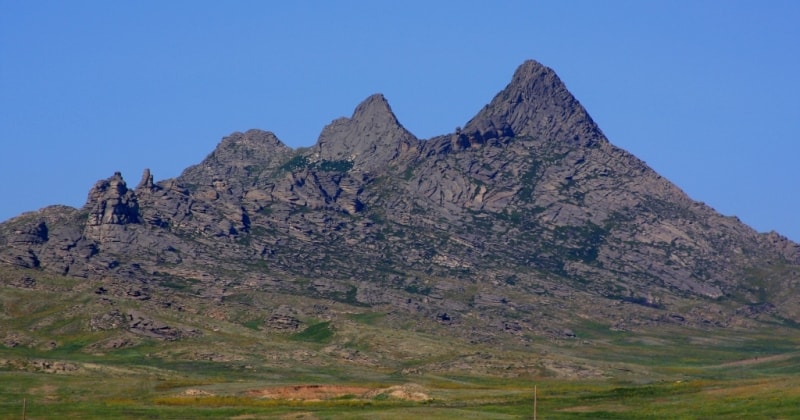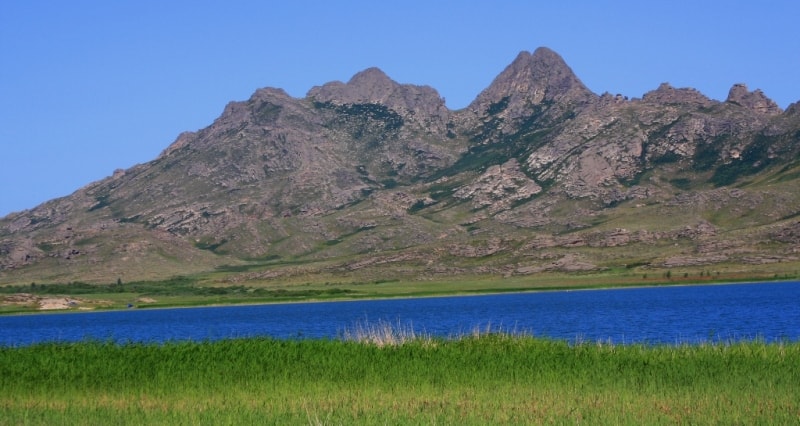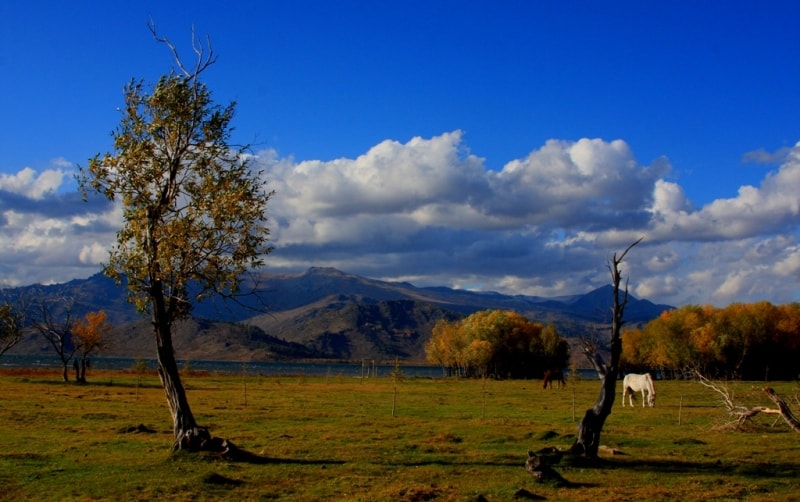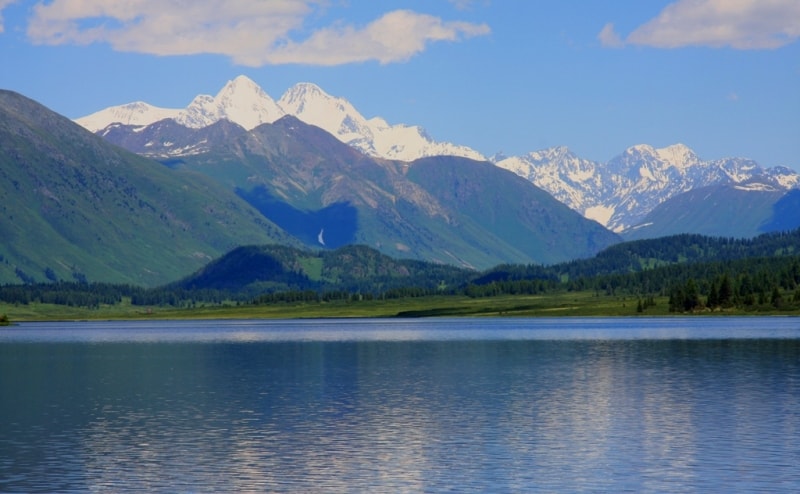 Text:
Jeremy Tredinnick. Magazine "Tengri" 2, 2010.
Photos
Alexander Petrov.