Amangeldy peak.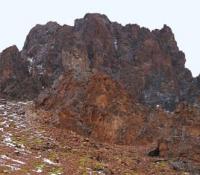 Private Travel in Almaty.
 "Every mountain top is within reach if you just keep climbing" 
Barry Finlay. «Kilimanjaro and Beyond».
Escorted Tours Kazakhstan.
Amangeldy peak 3999 meters above sea level. It is situated on the southern mountainside of Zailiisky Ala-Tau, in Low Almaty spur. The branch ridge is very cut up, its walls are raised over the Bogdanovich glacier and the Small Almatin Gorge.
The southern and south-western slopes are covered with small taluses. Rocks of fantastical form are rise up among them. The southern and western slopes have no glaciations. The northern slope is covered with
small abrupt ice formations in the low and middle parts. The first ascent to the peak was made by a mountain climbing group of six people from Alma-Ata, headed by V. Zimin, in 1939.  The Western Ridge of AmangeI'dy Peak (4,000 m, I B).
The serrate crest of Amangel'dy extends from east to west and goes down both sides of the mountain. The most popular route goes up the crest via the western side. From the MAL Khan Tengri camp near the meteorological station, go up along the Malaya Almaatinka river and continue up the old moraine, on the top of which you will find the dry bed of a former lake, Alpingrad (Alpinists' City, 3,430 m), which is an ideal spot to pitch your tent.
From here, climb up the former moraine of the Mashuk Mameto-voy glacier and then take a couloir that gradually becomes wider. Continue by going over the many gullies, then go over an easy ten-meter wall, after which you climb up the rocks to the top, which dominates the whole valley and Tuyuk-Su glacier.
Authority:
"Zhetysu is the Land of  tourism". A Tourist Guide-book. Almaty.  2003. 68 p. and the material for this page is taken from the printed edition.http://mountains.tos.ru/talgar.htm
Photos
Alexander Petrov.