Amin-Khan Madrasah.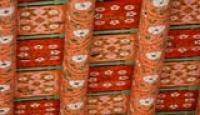 Religious tours over the mausoleums and necropolises of Khiva.
"Pillar which consntructed on the face of the sky"
Khiva – Silk Road Travellers.
Madrasah is situated in the western part of Ichan Kala fortress at the right side from entering of Ata Darvaza-gate. Madrasah is built 2 layers made from ripe brich, consists of 130 room. According to history information, simultaneously 260 students had studied in it.
Historians described following building of madrasah and minarat: Madrasah and manarat were started to build at the qibla side of castle by Madaminkhan in the fourth years of his khanate.Bekniyoz ordered to "devon" it's building.
Bekniyoz started to build devonbegi, Devon selected by Muhammad Karim on it.  Muhammad Karim found famous masters of Kharazm, occupied work a yard and garden were started.
After Khan's order all constructions of a yard and a garden were begun building. And Ismoil devoni ibn Odina was elevted leader of Devon by Abdulla Kushbegi. In 1851 the event which for construction madrasah of Muhammad Aminxan was announced.
Project which was drown by Abdulla "Jin" who was leader of masters was found to Khan's liking. Madrasah's construction was finished after 3 years. Khan was enjoy and he organized banquet in honor of Bekniyoz.
Brothers and relatives of Khan's who had come to the bonquet were worn traditional robe.by Khan. Horses were presented.In the building of Madrasah, poets of that time were spoken historical events.
In Portal of Madrasah a minaret's building was started. This minaret was named "Pillar which consntructed on the face of the sky" by  poets. In Portal of Madrasah beautiful mosaic boards have put in place and they decorated with nastaliq scripts.
Madrasah was constructed insemmetrical form, straight cornered. Two side of portal were decorated with traditional bouquet of fowers – minarets (In part of enterence of madrasah). There are miyon rare palace, mosque, Darskhana, and additional rooms in part of enterence of madrasah.
There are small portals in two sides of yard. Khajras in the first floor were used  in the rapidcity of bedroom or addition room arch veranda in the second floor is devoted  charm to building.
There are also 4 small portals into the yard, they are decorated with mosaic which have written with "suls" script. Windows are decorated with corved grating.There is unconductive layer middle of wall and, tsokol in downstairs. Hight of radius is 68 sm.  
Authority:
http://visitkhorezm.uz