Amir Tura Madrasah.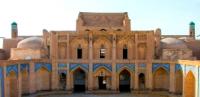 Cultural-entertaining tours over Khiva.
The Madrasah Amir-Tura is located in the northern part of Ichan-Kala in the Tashpulatov Street. It was built in 1870 by Amir To`ra, the son of Muhammad Rahimkhan I, the brother of Said Muhammad Rahimkhan II.
Amir To`ra held a high position of Amir-ul-Ulema ie head of Ulems. The building of the madrassah is large: two-storyed from the front side and one story from the yard. The facade of this madrasah remained unadorned as thse years the Russian troops intruded in Khiva.
The building was restored in 1983.
Authority:
http://welcomeuzbekistan.uz