Ancient settlement Altyn-tobe.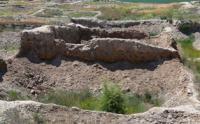 Ethnographic tours of Kazakhstan.
"If someone, without asking us, predetermined our destinies,
What did he attribute his evil and good to you and me?
After all, yesterday was without us, as tomorrow will be without us.
On what accounts did he count all the evil to you?"
Omar Khayyam.
Best places in Kazastan.
The Altyn-Tobe ancient settlement is located 2.5 kilometers northeast of the right (eastern) bank of the Srdarya River, 426 meters southwest of the Shaulder - Turkestan highway, 5.5 kilometers northwest of the Talapty village, in 10Yu3 kilometers south-west of the village of Otyrar in the Otrar district of the Turkestan region.
The Altyn-tobe settlement dates back to the first centuries of our era - the XI century. The settlement is a 2-tiered hillock of the "tobe with a platform" type, oriented with its sides to the cardinal points. The northern part, the most elevated (citadel), is sub-square in plan, with rounded corners, dimensions: 135 x 150 meters (horizontally 5 meters) and 75 x 60 meters (horizontally 15 meters).
The highest height of the citadel is 17.13 meters. In the center of the northern side of the citadel, a deep ravine-hollow is clearly distinguished, going from top to bottom. It probably appeared on the site of the former "northern" gate - the entrance to the citadel, leading along a ramp.
Another entrance to the citadel led from the south, from the shakhristan, a flattened area adjacent to the southern part of the citadel. The highest height of the shakhristan is 7 meters, the dimensions of the base are 100 x 225 meters.
Along the perimeter, the territory of shakhristan is surrounded by half-rings of the fortress wall. The remains of it in the form of a low rampart with rhythmically located elevations (sinking of the towers) are clearly visible on the ground.
In 2016, a section of the fortress wall in the southern part of Shakhristan was investigated. The wall is made of 35 x 25 x 9 cm adobe bricks. The preserved wall height is 2.2 meters, the thickness is 3.5 meters.
Geographic coordinates of the ancient settlement Altyn-tobe: N42 ° 52'26.61 "E68 ° 13'46.79"
Authority:
K.M. Baypakov, D.A. Voyakin, I.R. Kamaldinov.
"Research of fortification on the settlements of Otrartobe, Kuik Mardan, Kuyryktobe, Altyntobe and Tortkoltobe-Karachik in 2016".
Institute of Archeology named after OH. Margulan, Almaty, Kazakhstan
Alexander Petrov.
Photos by
Alexander Petrov.