Arapkhana ancient settlement.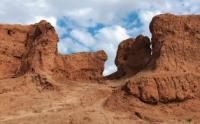 Ancient ancient settlements of Lebap Region of Turkmenistan.
Excursion Central Asia and Turkmenistan tours.
This hill on the suburb of the settlement with the original name of Arapkhan, in the territory of the site Yalky of collective farm Moscow of the Denyavsky Etrap of Lebap Region, kept the whole millennium the secrets.
Being, on this place the ancient settlement experienced blossoming and decline, then was finally left by inhabitants. Mount Arapkhana had square shape of 95 by 96 meters. Preliminary laboratory studying of finds, highlights of history and culture of the ancient settlement allowed to restore in general.
However, for obtaining detailed knowledge it was necessary to perform archaeological works. During archeological excavations of 1989 - 1990 locals gave us any help. Especially it would be desirable to mark out the head of the Etrap enterprise of agriculture R. Yu. Yusupov.
He convinced the management of collective farm Moscow to finance the forthcoming excavation during, two seasons and gave continued support and help in work flow.
Authority:
The Vozrazhdeniye magazine No. 1 for 2006. Yu. Dzhumayev.