Arch Mangilik El.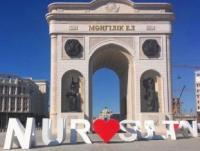 Traveling to the monuments of Kazakhstan.
"Every unfulfilled promise is a waterless cloud, an unsharpened saber and a barren tree"
As-Samarkandi Muhammad ibn Ali.
Trips to the monuments of architecture of Nur-Sultan.
To erect a landmark architectural structure in honor of the anniversary of the independence of Kazakhstan is the idea of ​​Nursultan Nazarbayev. Arch "Mangilik El" symbolizes the success of the young republic in the first 20 years of its formation and development.
The author of the project is Sagyndyk Dzhambulatov. The arch is made of granite and bronze. The opening date of the monument is December 16, 2011. The height of the arch is 21.5 meters, the width is 13 meters.The height of the architectural structure is 20 meters, which symbolizes the 20th anniversary of Independence of Kazakhstan. This height allows you to be in a dominant position and maintain visibility over the entire length of Orynbor Avenue.
The sides of the arch with respect to each puffer are symmetrically equivalent. Therefore, they are considered based on the directions to the Arc de Triomphe - from the International Airport (entrance to the city) and from the city (exit).
In the lower part of the base of each side there are volumetric sculptures 4.4 meters high each, bearing symbols that reflect the mentality of the Kazakh nation. To the left of the arched passage is a sculpture of Aksakal - a symbol of wisdom, a bearer of spirituality and the thoughts of the people.
To the right of the arch passage in the niche there is a relief sculpture of the Mother of the Woman - the guardian of the hearth, such national values ​​as Otan Ana, Jer Ana, Ana tsh related to the love of Motherland and Mother are woven into the image.
Under each of the figures is the famous Kazakh solar sign - "Eternity". This emphasizes that the state is eternal, the themes of all sculptural compositions reflected in this arch are eternal. Among the Turkic peoples, the image of the solar sign served as a talisman against everything unkind and was a source of light, heat, life and good.
In the upper part of each of the sculptures is the coat of arms of the republic. The emblem gives grandeur to the structure, demonstrates exceptional state significance and reveals the fullness of state symbols!
Authority:
http://reactor.inform.kz/samye-interesnye-pamyatniki-astany-a3656