Architectural monuments of Bukhara.
Monuments of Bukhara.
"The busiest movement is often seen in the dead ends of history"
Arnold Toynbee.
Rounds on architectural monuments of Bukhara.
Medieval Bukhara is a phenomenon of the art of architects. The XVIth - XVIIth centuries, especially the beginning of the XVIth century, were the turbulent times of the unstable power of the first Khans of the Shaybanid dynasty and the transfer of the capital alternately from Samarkand to Bukhara.
But even then original works were created, testifying that the creative spirit of the builders was not scanty and did not die away. The city was built madrasah Mir-i Arab (Miri Arab madrasa) and the Kalyan mosque, which completed the formation of the central ensemble Poi Kalyan (Pai-i Kalan or Poi Kalyan complex), marvelous quarter Khoja Zayn ad-Din and Balyand mosques (Balyand Mosque ) the beginning of the country ensemble of Bach ad-Din (Bach ad-Din Ensemble).
Masters of the Bukhara School of Architecture XV - XVII centuries. used in building structures and decor cheap and easy, but effective and effective techniques. For example, overlapping on intersecting arches, two-color ganch decor "kyrma" and "chaspak."
In the XVIIth century, colorful, sometimes monumental, zoomorphic images with ancient pre-Islamic themes were used in majolica decor, where birds and serpents flying toward the sun prevailed. The features of the Bukhara school in the buildings of madrasahs, minarets, sardob and memorial buildings - hazir are especially vividly highlighted.
The Bukhara school, becoming the leading one in Central Asia in the XVth - XVIIth centuries, had a significant influence on the architecture of the states of the region.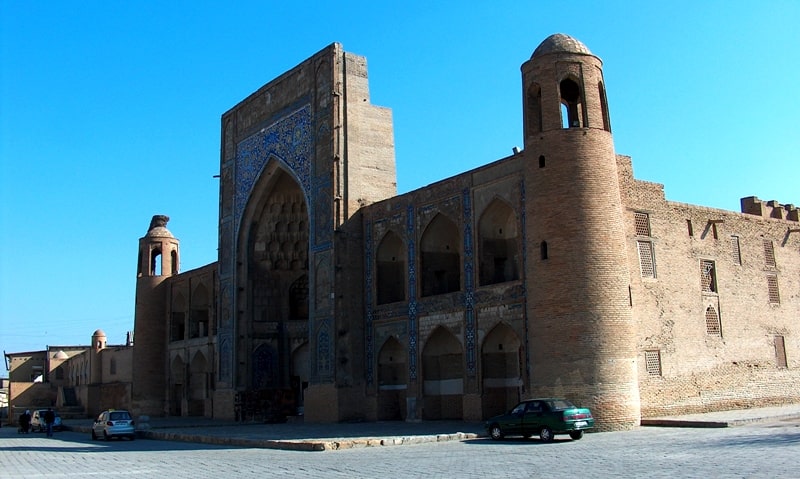 Enlightener:
VG Saakov "History of Bukhara". Shark Publishing House, 1996. "Bukhara. Masterpieces of Central Asia. Historical guide to Bukhara. year 2012. "Bukhoro Bukhara Bukhara" In Uzbek, English and Russian. Publishing House "Uzbekistan", Tashkent 2000. Muhammad Narshahi. History of Bukhara. Tashkent. 1897 (translated by N. Lykoshin). V.G. Saakov Architectural masterpieces of Bukhara. Bukhara regional society "Kitabhon" Uz SSR, Rovno 1991, Robert Almeyev. The history of ancient Bukhara. (Edited by Academician of the Academy of Sciences of the Republic of Uzbekistan Rtveladze E.V.)
Photos by
Alexander Petrov.