Atajanbay Madrasah in Khiva.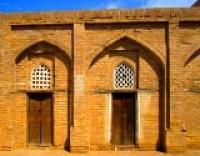 Trip to Khiva.
"When a person is busy with his business, he does not always explain his behavior to random passers-by, no matter how much interest they, in their own opinion, have experienced in this matter. When an action takes place, the main thing is that it develops correctly. In this case, external evaluation is of secondary importance. "
Baha'Auddin Muhammad ibn Burhanuddin al-Bukhari.
Park tour in Khiva.
The madrasah is located between the Russian school and madrasah Mazar-i-Sharif. Built  by Atajanbay, a prosperous landowner of Khiva in 1884.
If viewed from above the outline of the madrassah looks like a quadrangle elongated in a transverse direction from east to west, asymmetric referring to the entrance in the southern wall. Near the north-west wall the madrasah Mazar-i-Sharif is positioned  and between them there is an interior corridor.
These two madrasahs make one single ensemble.
Authority:
http://visitkhorezm.uz