Barracks in Turkestan.
Central Asia tours and Turkestan.
"If you follow the ancient maps written on the stars, no person will ever understand you. So if you could read these maps, would you follow them? And forever be misunderstood? Or would you close your eyes tightly and pretend to be like everyone else?" 
C. JoyBell C.
Historical monuments of Turkestan.
The barracks are dated the end of the XXth century are on Lenin St. Street, 70. It is located near an ancient settlement citadel in the territory of a "Elastic". Now is its production case. Has late extensions from a building end face, at an entrance internal partitions are lost.
Time of a construction of the building is connected with integration of the Turkestan garrison in the 2nd half of 19 century. On the master plan of military buildings of Turkestan garrison of 1900 this construction is designated as barracks for the lower ranks of a company of the 1st Turkestan battalion.
Brick one-storey construction under an iron roof; in the plan an extended rectangle. Facades are symmetric, central and side parts are allocated with poorly acting projections finished by parapets. The plane of walls is rhythmically dismembered by narrow window openings and pilasters.
In decorative registration of an corrugated, corbels and of walls. Internal planning is symmetric, in an interior represents the extended hall dismembered by 2 rows of columns in 3 flights. Columns of average flight are connected by arch crossing points in the longitudinal direction.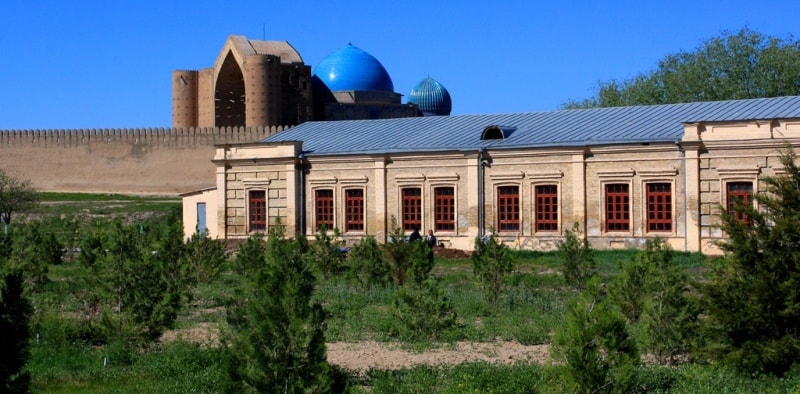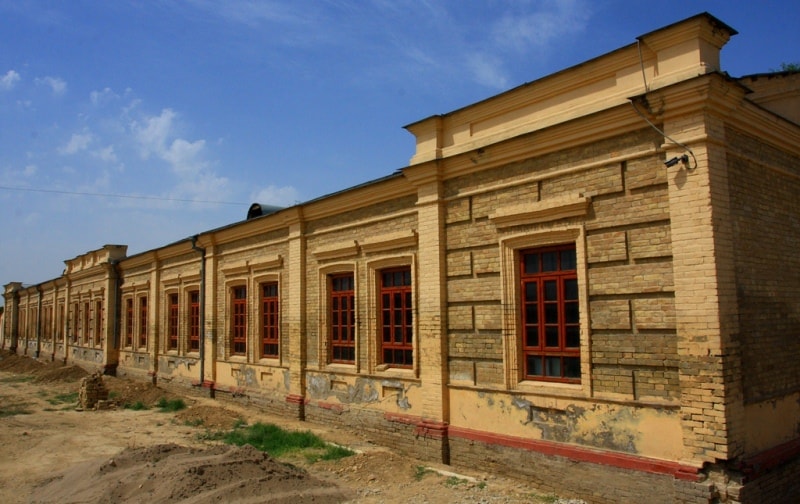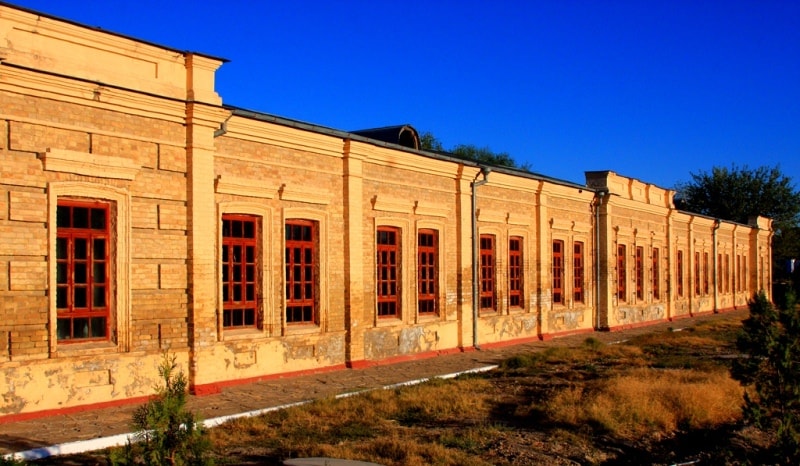 Authority:
Arch of historical and cultural monuments of Kazakhstan. Southern Kazakhstan area. Volume 1. Alma-Ata. Main editorial office "Kazakh of an Entsiklopediyasa", 1994. Author of article E.G. Malinovskaya.
Photos
Alexander Petrov.