Base camp "Karkara".
Transfer from Almaty and Bishkek to Base Camp Karkara.
"I think you travel to search and you come back home to find yourself there" 
Chimamanda Ngozi Adichie.
Tour from Karakol to Naryn town.
The base acclimatization camp "Karkara" (translated in Kyrgyz as Zhuravl) is located at an altitude of 2200 meters above sea level on the left side of the Karkara River in an alpine forest zone in the Tyup district of the Issyk-Kul region.
The distance from farm 4 of the village of Karkara is 10.5 kilometers, from the checkpoint "Kirkara" 17.6 kilometers. Distance from Almaty through the Kegen settlement and the Kirkara seasonal checkpoint is 280 kilometers.
The length of the way from the city of Bishkek through the Boom gorge and the city of Cholpon-Ata, which is on the northern coast of Lake Issyk-Kul, is 450 kilometers. The distance from the city of Karakol, the administrative center of the Issyk-Kul region, is 115 kilometers through the village of Tyup.
The base camp "Karkara" serves as an acclimatization and intermediate point for climbers climbing the highest peaks of the Central Tien Shan peaks: Pobeda, 7439.3 meters above sea level, located in the Kokshaal-Too ridge (Savabtsi) and on the Khan-Tengri peak. 6995 meters located in the Meridian ridge.
From here, helicopter flights are made to the base camp "South Inylchek" located at the confluence of the South Inylchek and Zvezdochka glaciers at an altitude of 4070 meters above sea level. The camp is equipped with everything you need: camping and frame tents on the banks of the picturesque Karkyra River, you can also put up your own tents on the camp territory.
The camp has a dining room, bar, Russian bath, showers. On the territory of the camp there is a parking lot for a helicopter, which, according to the schedule, makes flights to high-altitude base camps. In the vicinity of the camp, you can make an acclimatization ascent to the Bas Karkara mountain 4059 meters above sea level in order to get good acclimatization before visiting the base camps on the glaciers of South and North Inylchek.
On the east, right side of the Karakara River from the location of the Kyrgyz acclimatization camp "Karkara" there is a camp of Kazakh climbers "MAL Khan-Tengri". The flight time by helicopter from the base camp "Karkara" to the base camp "South Inylchek" is 45 minutes.
Geographic coordinates of Karkara Base Camp: N42 ° 40'49.63 "E79 ° 11'41.16"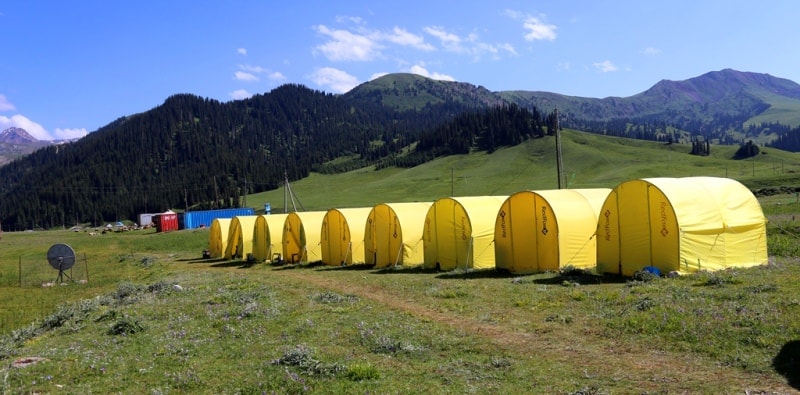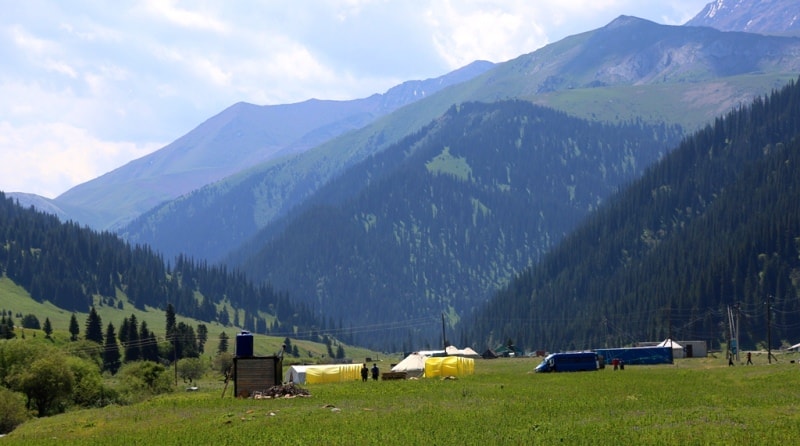 Authority and photos by:
Alexandr Petrov.