Bobo-Toga a mosque.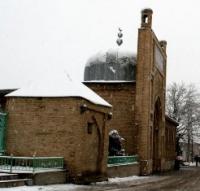 Religious places of interest Istaravshan.
The architectural monument a mosque the Bobo-Toga is located in city of Istaravshan Sogd of province. The mosque the Bobo-Toga is an architectural monument XVI - XIX centuries and represents a two-chamber portal dome construction.
Erected in XVI century and additional a construction of a mosque with iwan, constructed in the end of XIX century, in 1899. Under the legend, the mausoleum is erected above a unknown tomb.
The largest premise is - zieratkhona, blocked a dome. The portal is turned on the south. On a cross-section axis in the western wall the niche, and on east part pass in dome gurkhona - a tomb with a simple gravestone is arranged mihrab.
Before gurkhona it is located khazira - barrier a burial place open-air. In a court yard it is arranged khauz. Later there were economic constructions and a covered gate.
Authorship:
The Tourist guidebook on monuments of Tajikistan. 2012.
Photo
https://myslo.ru  Dmitriy Koido.