Burial of batyr warriors in Karasu valley.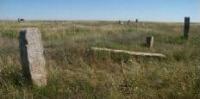 Interesting tourist places in Kazakhstan.
"War is murder. And no matter how many people come together to commit murder, and whatever they call themselves, murder is still the worst sin in the world."
Lev Nikolaevich Tolstoy.
Archaeological monuments of Kostanay region.
The burial place of batyr warriors of the XVIIIth century is located at an altitude of 267 meters above sea level, is located to the north of the Sypsynagash hollow, in the Karasu tract in the interfluve of the same name, 33.7 kilometers west of the village of Druzhbyly, 23.4 kilometers southwest of the village of Svobodnoye, 12.6 kilometers northeast of the village of Urkash, in the Kamystinsky district of the Kostanay region.
Among the most significant objects of the national cultural heritage of the Kamystinsky district are the burial places of batyr warriors who heroically died in battles with the Dzungars. Stone kulpytas in the ancient cemetery serve as an eternal reminder to the locals of the glorious deeds of their ancestors.
On the territory of the current Kamysty region, major historical events took place in the XVIIIth century, which determined the further fate of the Kazakh people and the largest victory of the Kazakh militias over the Dzungars led by Sanrak batyr and Taylak batyr.
The result of this victory was the complete cleansing of the Kazakh land from the Dzungarian conquerors.
Geographical coordinates of burial of batyr warriors in the Karasu valley: N51°26'23.88" E62°24'53.17".
Authority and photos:
https://kraeved-kst.kz/int-map/ru.php