Bust of Abay in Almaty.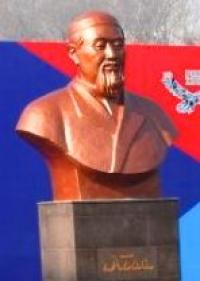 Travels in Kazakhstan and Central Asia.
"Contentment is the eternal enemy of movement.
The soul to the heights is the way to strive.
Gives satiety - satisfaction,
But only to accomplish feats with a movement!"
Ella Wilcox.
The greatest travels in Kazakhstan.
On February 6, 2020, in Almaty, in the «Gulder» Square, near the Akimat of the Zhetysu District, by the time dedicated to the 175th anniversary, a bust was opened to the poet, thinker Abay Kunanbaev. The author of the sculpture is the honored artist of Kazakhstan, sculptor Tleuberdy Binashev.
The monument is made of high strength material.
Authority:
Alexander Petrov.