Canyons Karakavak and Shuldor.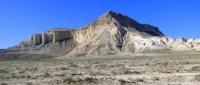 Hiking season on Mangyshlak.
"All nature wears one universal grin" 
Henry Fielding.
Big adventures on Mangyshlak.
Canyons Karakavak and Shuldor are located on Mangyshlak. These canyons are in Aktau-Buzachi the wildlife area. These canyons impress at survey them from the top panoramic platforms. Extent of canyons is 9 - 10 kilometers with a height of walls from 100 to 150 meters.
The canyon Shuldor is most picturesque. Its walls steep, are cut up by courses of seasonal rain streams and winds. Karakavak (or Karakuak) is better known for the archaeological monuments. There are remains of the big ancient settlement of the VIII - IX century. It was the seaport, caravans with freight came from Khorezm here, and on raid of a Karakavak bay there were Hazaria merchant ships.
The citadel of the city was arranged on natural lost mountain, from East side separated from the plateau by a big natural ditch, one slope is strengthened by a stone wall about 50 meters long. The fortification nowadays turned into the stone shaft put by stones of limestone and silicon concretions.
The long flat track on the high site turned into twisting flights of the steps which are cut down in the rock conducts with North side to a ditch. It was possible to get to "citadel" only through a ditch and serf gate or from opposite West side almost on a steep rocky wall in which remained cut down ladder steps.
Near the ancient settlement in the rocky gorge there is a small spring. Here on calcareous walls runic and Arab inscriptions, and also patrimonial signs of that time remained. Patrimonial signs and drawings often meet on stones near a citadel.
An eternal guard of the ancient settlement is the big natural sphinx, on one of canyon slopes. On the narrow isthmus dividing canyons the fortification remains, extent of 500 m remained. It is very probable that the wall was put up at the time of existence of the ancient settlement Karakavak.
This wall of Baylam that is translated as "Shelter". The coast of a Karakavak bay as the beach is not convenient because of the shallowness. On a sandy bottom it is necessary to pass one hundred meters to try to bathe. In the summer, especially in hot days, sea water will not present you the expected cool.
The sea here strongly gets warm and to become very warm. In the winter in a good frost the bay freezes through that it is possible to drive on ice the car. In the spring and in the fall at cane thickets packs of flying waterfowl huddle.
Authority:
Andrey Astafyev and  http://mangystau.info
Photos
Alexander Petrov.