Capital Kaganate Karakhanids.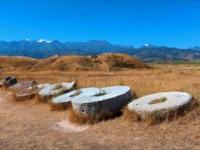 Excursions on archeologic monuments of Kyrgyzstan.
The short description of route of an excursion trip on an architecturally-archeological complex Tower of the Burana:
Bishkek - settlement Kant - settlement Tokmok - architectural complex Burana Tower – Bishkek.
Extension of route: 72 km.
Seasonallity: all the year round.
 Best time for excursion: April - September.
Advanced reservation - for 24 hours.
1 Day.
The detailed program of an excursion trip on the Tower of the Burana:
Transfer: Bishkek - an architectural complex «Burana Tower» (72 km, 1 hour). Arrival on an architecturally-archeological museum «Burana» ruins of ancient site of ancient settlement Burana. Visiting of museum open-air - Stone statue monuments with image Turkomans VI - X centuries, here is collected more than 80 various Stone statue.
Visiting of collections the mill millstones found at excavation in territory Burana of site of ancient settlement (X - XII c.c., millstones from mills of our time and millstones XVIII - beginnings XX с.с. Visiting of museum Burana Tower, the pottery of different forms and the sizes, utensils from glass, ceramic and bronze fixtures, manual grain bruiser, Kairaks with Arabian and Nestorianism writing, potter's water pipes, subjects of arts and crafts, bronze coins here is presented.
Visiting of monuments Epigraphy which are presented gravestone stela with inscriptions in the Arabian language, on stela sayings from the Koran, name, year of death of the late are include. Visiting of tower Burana Tower. Burana Tower - minaret of XI century. Initial height Burana of minaret was 45 meters now height of tower makes 24,6 meters.
Visiting of the central ruins where there is hill in the sizes 100 х 100 meters and height of 10 meters which where there are rests of palace complex or temple existed here up to X centuries. The excavation lead on hill, on the top surface here have opened inhabited constructions X - XII c.c. And burial places XIII - XIV c.c. The end of excursion. Transfer: Burana Tower - Bishkek.
Note:
The Program is Alexander Petrov's author's program. Copying and introduction - only from the sanction of the author - petrovsra@mail.ru
Alexander Petrov's
photos.