Carving in Susyngen Gorge.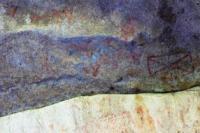 FIT trip to Sairam-Ugam Park.
"It was up this causeway that the Tajik ancestors, the Sogdians, had fled from Arab invaders in the eighth century. For more than fifteen hundred years they had lived along the Zerafshan in a loose-linked galaxy of oasis princedoms. Rut Turkic and Arab incursions at last confined them to the great cities, where their Tajik descendants survive, or drove them deep into the mountains, and the valley which we followed still seemed to echo their desperate migration"
The Lost Heart of Asia, Colin Thubron.
Cultural walking excursion from Shymkent to Turkestan.
Behind the crest of the Karzhantau ridge, in the Sairam-Ugam National Park in the Kazygurt district of Turkestan region, near Lake Susengen, in a narrow gorge with the tract Kyz-Zhail, a grotto was discovered, the arch of which is covered with a layer of soot from ancient fires, and there are a lot of drawings on the walls.
A man with a staff is being seen, and in front of him is a pair of goats, mysterious characters framed, and another person. Unfortunately, some characters are hard to read. So far, this location of the drawings by ocher has not been studied by experts.
It is interesting that every year at the end of July the lake begins to rapidly disappear, and in August there is only a huge, even green meadow in its place, along which a small river winds. In these places - a lot of karsts, huge underground voids.
They leave the water. Under the rocks, a small pond is preserved, where the river flows. Locals say that the disappearing water of Susengen emerges in the form of springs 70 km from this place in Shymkent, where it forms the Koshkarat River.
Authority:
G. Peteneva. http://www.vkoem.kz/index.php/ru/kompleks-qak-bauyrq/1418-naskalnye-risunki-vostochnogo-kazaxstana-vypolnennye-oxroj