Chagalа ***.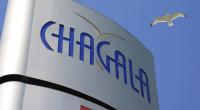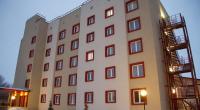 Address: Masinа, str; 67, 417029, Uralsk, Kazakhstan
The price of rooms ($ USA):
Single room - 95
Twin room – 105
The price for accommodation at the hotel including: breakfast.
Check in at - 12.00, check out at - 12.00
Location hotel "Shagala": Our hotel is located in the city centre close to all major streets and government offices. Travel time from the airport, located to south east of the city, to our hotel is roughly 30 minutes by car.
The hotel offers 200 guest rooms. The hotel offers 46 guest rooms, all with en suite bathroom and equipped with satellite TV, mini bars, air conditioning and direct dial telephones. In addition, an aparthotel extension, which opened in summer 2010, offers 36 well-appointed apartments suitable for long stay guests and executive use.
In rooms of hotel is: air-conditioning, TV, phone, mini-bar. Parking, laundry, Wi-Fi, airport transfer.
Services of hotel: business center, restaurant, bar, hairdresser, laundry, dry cleaning, parking.
Bar and restaurant in the hotel "Shagala": Hugo's Restaurant offers a wide variety of food and beverages. It is open from 07:00 till 00:00 every day. Breakfast buffet – all week Business lunch Buffet - Monday through Friday For dinner and on weekends you can enjoy dishes ranging from local cuisine, pizzas, pastas, Mexican and Indian dishes, and our Chef's specials, all at affordable prices. It is a great place to spend time with friends and family! You can enjoy watching sport events live while having a delicious meal! We can arrange special parties and private functions for up to 60 people. Please enquire about our outside catering services.
Meetings and conferences in the hotel "Shagala": "Ural" conference room is fully equipped and is the perfect venue for meetings and seminars for up to 60 people. And our Boardroom with en suite Lounge is great for small meetings for up to 15 people. Recreation and leisure. Our fitness room is open from 07:00 till 21:00 every day, seven days a week.