Climbing tour to glade Alpingrad.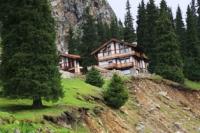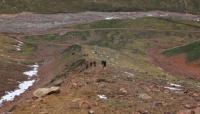 Mountain walks in mountains Northern Tien-Shan.
"Not all those who wander are lost"
J.R.R. Tolkien.
The brief description of mountain route of hiking:
Almaty - gorge Small Almaty - valley Medeo - mud dam «Medeo - mounting skiing resort Shymbulak - valley «Gate Tuyk-Su» - valley Mynzhilki - glade Alpingrad - Almaty.
Distnace of route: 54 km.
Hiking season: from May, 1st till October, 30th.
Best time for hiking: June, July, August, Septermber.
The advanced order: for 24 hours.
Duration of the hiking: 1 day.
The detailed program of hiking in mountains Zailiiskiy of Ala-Tau:
Sightseeing tours in Almaty and Shymbulak.
Transfer: Almaty - valley Medeo (15 km). Our way from city in valley Medeo conducts on the south on the central street of city - Dostyk, after boundary school is passed Spa centre «Luxor» which is to the right of road, then passed numerous cottages on both parties of road, further to the right of road, on turn on Kamensk plateau is luxurious hotel "Roal Tulip".
Further we pass construction an ecological post at which now will be new earmarking. Right at the beginning of valley Medeo to the left of road there is first station cable way, travelling on which it is possible to get on ski resort Shymbulak.
Above station Cable way there is high-mountainous skating rink «Medeo», 1691 meter located at height above sea level. Serpentinous mountain road it is laid above skating rink from the western part from here the fine panorama on an ice field of a skating rink opens.
The road gains height along east slope of mountain Mohnatka and rise on northern party mud dam on dam begins. We pass dam and further our way by natural boundary Gorelnik to rise Sarysai and further to mounting skiing resort Shymbulak. After resort Shymbulak we pass natural boundary the Edelweiss, valley Gate Tuyk-Su of 2650 meters above sea level, camp of climbers on the left party of the river Small Almaty, hotel «Gate Tuyk-Su», memorial of climbers.
Near to memorial of climbers we leave our machine and from here we will begin hiking in mountains Zailijskiy Ala-Tau. Hiking: the valley Gate Tuyk-Su - natural boundary Mynzhilki (3 km). Our further hiking walk will pass on mountain road on which sometimes pass extreme jeeps with extreme desires to reach to the glaciers. Here the Alpine zone is located and we meet the Alpine meadows with a juicy both green grass and glades of colors.
We can see high-altitude zone in mountains. Already soon we reach zone of wood and we say goodbye with Tien-Shan fur-trees up to return meeting, the zone of wood settles down at height 2800 - 2900 meters above sea level, at this height of fur-tree do not grow any more. Here the undersized juniper which has the local name - archa grows. At the left at road high, vertical, monolithc rocks are located, these are Bastions.
In this place long rise begins, but is gradually road is leveled also we come nearer to valley Mynzhilki which is located at height from 3000 up to 3300 meters above sea level. The gorge partitions off mud dam, from the left party of the river small houses of hydropost «Mynzhilki» settle down, to the left of road there are old, one-storeyed structures. Here at road beautiful modern pavilion where it is possible to take rest.
The hiking: valley Mynzhilki - valley Apingrad (1,5 km). Having passed it is little on road behind natural boundary Mynzhilki we turn off to the left on a track which rise is very sharp upwards, it is rise in natural boundary Alpingrad. Rise will demand our forces on overcoming of distance in 1, 5 kilometers. Than further and above to natural boundary Alpingrad before us stunning panorama Zailiskiy Ala-Tau opens, in the south it is huge circus limited with the east peak Molodezhnyi from the south wall of glacier Main Tuyk-Su and rocky tops of Igly Tuyk-Su.
The valley Alpingrad is located on the ancient moraine, here convenient platforms for installation tents, there is good spring water. Walk in vicinities, photographing of area. Lunch, rest. Returning to valley Gate Tuyk-Su on way of rise. Returning in Almaty.
Note:
The author program is Alexander Petrov. Copying and introduction -  from the sanction of the author  petrovsra@mail.ru
Alexander Petrov
photos.