Complex «Istiklol».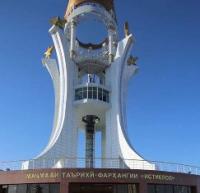 Entertainments in Khujand.
In September, 2016 in downtown of Khojend Sughd of province the historical and cultural complex «Istiklol» has opened.
Construction of the given object has been begun in May, 2016, the complex is put in operation in days of celebrating of 25-th anniversary of the State independence of Republic Tajikistan.
The project of unique and large object which henceforth becomes favourite vacation spot and walks of inhabitants and visitors of city of Khojend, is developed by experts of Open Company «Sughd Giitiz», its design cost makes 37 000 000 somoni.
The height of a complex makes 53 meters, in him the crown and seven stars rotate. At height of a complex of 21 meters are created the viewing platforms having special lifts.
The total area of a complex makes 1127 square meters, in a basement of a complex exhibition and historical and cultural halls in which are placed a map of Republic Tajikistan, national relics and values settle down.
Underground transitions of a complex are intended for an output of visitors to a showroom.
Authorship:
 News agencies of Tajikistan.