Cook-serai Temur in Samarkand.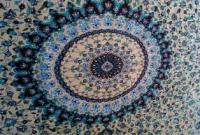 Trips to Samarkand.
"In the mosques, in the temples, in the temples of the gods
They are afraid of hell, seeking heavenly dreams.
But he who knows the mysteries of creation,
I have not sown these weeds in the heart! "
Omar Khayyam.
VIP and business tours in Uzbekistan and Central Asia.
In Samarkand, the main government palace of Amir Temur, and then Ulug Bek, was Kuk-Saray ("Blue Palace"). It was located inside the citadel of Kal'a and enjoyed ill fame. Along with the state offices, the treasury was the Prison, where they kept high-ranking officials.
The palace was the 4th, and, obviously, towered over the walls, the service is a kind of patrol point. The name Kook-Saray, obviously, was obliged to the abundance of facings by glazed tiles and bricks with the predominance of a blue-blue range.
Built architects and townspeople. This palace, like all the buildings of Kala, did not reach our days, although at the time of the earthworks, tiles of the Temurid time were found here.
 Enlightener:
"Religious and spiritual monuments of Central Asia." Author M. Khashimov. Saga Publishing, 2001 Collection "Architectural and archeological monuments of Uzbekistan", Saga, 2003. "Samarkand. Reference Guide ", Authors I.Umnyakov, Y. Alekserov. Arapov A.V. Samarkand "Masterpieces of Central Asia". Media-Asia San'at Publishing House 2008. Arapov A.V. "Samarkand. Guidebook Publishing house Media-Asia San'ath 2007.