The cultural and historical complex "Kazakhstan" in Ust-Kamenogorsk.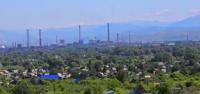 Tours in Ust-Kamenogorsk.
 "The city is people, not walls"
Thucydides.
Sights of Ust-Kamenogorsk.
The cultural and historical complex "Kazakhstan" in the administrative center of the East Kazakhstan region, the city of Ust-Kamenogorsk, was opened in 2009.
The complex of state symbols on the mountain in the region of Ablaketka was opened on the initiative of the city akimat with the aim of fostering patriotism, a sense of pride among citizens and to improve the appearance of the city.
At a height of 266 meters above the capital letters, the word "Kazakhstan" is laid out. Nearby is the national flag with dimensions of 24 x 12 meters. In 2011, an amphitheater was built where cultural events of the city are held.
Authority:
"Based on field research. Ermaganbetova K. December 2016. "Register of memorial complexes built during the period of independence." "Practices and places of memory in Kazakhstan." Medeuova K.A., Sandybaeva U.M., Naurzbaeva Z.Zh., Tolgambaeva D.T., Ermaganbetova K.S., Melnikov D.N., Kikimbaev M.Zh., Ramazanova A.Ch., Tlepbergen A .B., Zhetibaev E.Zh., Orazbaeva D.E., Poltavets K.A.