Dangyra.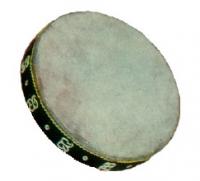 The Kazakh musical percussion instruments.
Dangyra is a percussion musical instrument. It represented a tambourine: the rim covered from one side with leather, inside of which there were small metal chains, rings and plates, sounding when the leather is stricken and during the movement there was an additional noise effect.
Dangyra was an attribute of shaman rituals. Popularity of musical art was promoted by constantly travelling around auls professional singers (olenshy, anshy) and musicians (kuishy). The most popular performers were those who could not only sing and play an instrument but also had the gift to improvise on important topics.
Narrators and poets-improvisers when performing legends and fairy-tales, epic or historical legends were not only signing but also were narrating and they were playing an instrument. This all intensified their performance with expressive gesticulation and mimics.
The musical culture of Kazakhstan of the end of XIX – beginning of XX centuries is characterized by the presence of the large group of talented composers, authors of many folk songs and instrumental works.
The most prominent composers and musicians are dombra players Kurmangazy Sagyrbayev (1806 - 1879), Dauletkerei Shigayev (1820 - 1880), singers Birzhan Kozhagulov (1825 - 1877), Mukhit Meraliyev (1841-1918), Abai Kunanbayev (1845 - 1904), Zhayau Mussa Baizhanov (1835 - 1929), Akhansery Koramsin (1843 - 1916), Yestai Berkimbayev (1868 - 1946), kobyz player Ykhylas Dukenov (1843 - 1916).
Nowadays production of the folk musical instruments as one of the most interesting directions of the revived crafts and decorative production is developing because the further development of the concert activity of various professional ensembles continues.
They have large demand not only amongst the specialists but also amongst the collectors.
Authority: 
The brief encyclopedia Kazakh SSR, volume 4, Culture, Alma-Ata, 1990. B.Sarybaev. National Library of Republic Kazakhstan.