Dorus Siodat complex.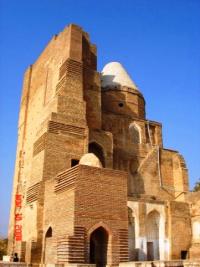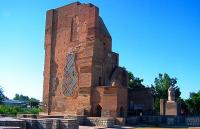 Tours on monuments of Shakhrisabz.
This vast complex was destined as a place of burial for the ruling family and contained, in addition to the tombs themselves, a prayer hall, a mosque, and accommodation for the religious community and pilgrims.
The main facade was faced with white marble. The tomb of Timur, also of white marble, is a masterpiece of the architecture of this period. 1379 – 1380 - 1404 years. Extension of XIX - early XX century.
From a huge family burial vault, built by Tamerlane, the Mausoleum remained only his eldest son and heir of Jehangir and the Crypt of Timur, in which he was never buried. 
"Mausoleum Jeha Ngiri (in later tradition - Hazrat Imam) was erected in 1379 - 1380 craftsmen from Urgench in Khorezm forms of architecture: it is characterized by a system of three domes - the internal decoration, internal and external constructive conical tent on shestnadtsati-grannom drum.
The interior - stucco stalactites, ornamental and epigraphic wall painting, the door is decorated with ornaments (1832). The mausoleum was included in the array a huge portal with a tower on the corner, which is used in the decoration of multi-colored brick and Kashin mosaic.
Tomb of Tamerlane (1380 - 1404) сross-shaped in plan, with a sloping canopy, entirely marble with carved inscriptions. Closely attached to the mausoleum, mosque (2nd half of XIX century).
Domed room with a spacious and light years aivan on wooden pillars with carved bases and scalloped trimmer.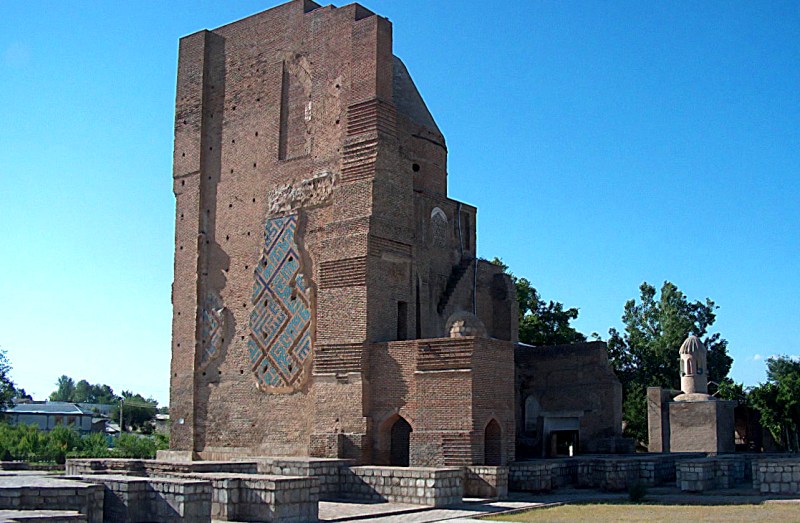 Authority:
« Religious and spiritual monuments of the Central Asia ». The author of M. Khashimov. Publishing house " Saga ", 2001. Belenitski A.M., Bentovitch I.B., Bolshakov O.G. « Medieval city of Central Asia»., 1973, Leningrad: Klyashtornyi S.G. "History of the Central Asia and monuments runic letters": Bernshtam A.N. «History-archeologic sketches Central Tien-Shan and Pamir-Alay». Masson V.M."Midle Central Asia and Middle East".
Photos
Alexander Petrov.