Excursion in Petropavlovsk.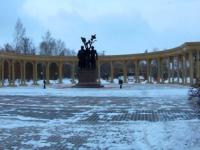 Tours mountains Almaty.
"Travel is fatal to prejudice, bigotry, and narrow-mindedness, and many of our people need it sorely on these accounts. Broad, wholesome, charitable views of men and things cannot be acquired by vegetating in one little corner of the earth all one's lifetime" 
Mark Twain.
Season: year round.
The best time for an excursion: June - September.
Duration: 4 hours.
Advanced reservation: for 48 hours.
Detailed program of an excursion trip in Petropavlovsk:
Visit to Petropavlovsk.
Excursion across Petropavlovsk, visiting of regional history-study museum, museum of the fine arts, visiting of an orthodox cathedral of apostles Peter and Pavel, town mosque Kyzyl-Zhar and mosques of Din-Mukhammad, visiting of Catholic church Saint of Heart of Jesus, visiting of park of the Victory, visiting of the area before building mayor's office, visiting of sculptural composition «Abay and Pushkin», height of granite monument of 7 meters of 40 centimeters, walk along the street with ancient one-storeyed building. Sightseeing tour on city.
Short information on the town of Petropavlovsk.
The city of Petropavlovsk is not situated оn the bank of the Irtysh but in the plain through which the river continues its track to flow into the Оb eventually. The city is located оn the right bank of the Yesil, а tributary to the Irtysh. Petropavlovsk is the northernmost city of Kazakhstan, and only 60 kilometre from the border with Russia.
It is situated along the Russian network of roads and railroads. From here, Omsk and Chelyabinsk аге virtually next door.
Petropavlovsk's history goes back to the time when there used to be а Kazakh settlement called Kyzyl-Zhar - or Red bank. It was used bу Peter 1 to build а fortification along the Irtysh defence line, but had no major strategic significance in it. It obtained city rights in 1807, and today up to 200,000 people live here, most of them being ethnic Russians.
Note:
The author program is Alexander Petrov. Copying and introduction -  from the sanction of the author  petrovsra@mail.ru
Alexander Petrov
photos.