Firdousi Park in Dushanbe.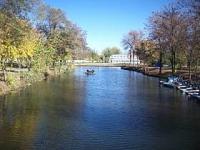 Weekend tours in Dushanbe.
"The friend of the mind is held in high esteem in two worlds,
The enemy of the mind is tormented in chains.
The eyes of your soul are your bright mind,
And you can only embrace the world with your eyes."
Ferdowsi. "Shahname".
Rest in parks of Dushanbe.
Firdousi Park (previously the park was named Peoples' Friendship Park) is located in the southern part of Dushanbe in the square of Karabaev and Jami avenues and Abulkasim Firdavsi and Borbad streets. The Peoples' Friendship Park is the only park ensemble in the southern part of Dushanbe.
The central alley cuts through the park from north to south. The compositional center of the park ensemble is an artificial pond, which covers about 30% of the park. Green lawns in various parts of the park divide it into active recreation areas, children's and beach areas.
The main entrance to the park is provided from the side of Firdousi Street in the form of a wide alley. The territory of the park is 20 hectares of usable area. On the north side, the park is bounded by A. Jami Avenue. In the east there are trading rows of Sakhovat, Panjshir and Gandzhina markets.
The western side of the park is occupied by a bakery and a cinema "Tajikistan". The restaurant-teahouse "Istaravshan" built on the shore of the pond overlooks Jami Avenue. There is a multi-jet fountain in front of the main facade of this building.
On the axis of the main alley, in the southern part of the park, there is a monument to A. Firdousi. The park is landscaped, equipped with attractions and various architectural forms. Druzhby Narodov Park has become a favorite place for recreation for residents of adjacent microdistricts.
The park was built in 1972 according to the project of the team of authors from the Dushanbegiprogor Institute (architects R. D. Karimov and Sh. M. Karimov). The opening of the park in Dushanbe was dedicated to the 30th anniversary of the Victory in the Great Patriotic War of 1941-1945. In 2018, the park was completely renovated.
The park is considered one of the best parks in the city of Dushanbe where 3 - 5,000 residents and guests of Tajikistan spend their time.
Geographic coordinates of Firdousi Park in Dushanbe: N38°31'19.01" E68°45'20.26"
Authority and photos by:
Salia Mamajanova, Rustam Mukimov. Architecture and urban planning of Dushanbe (history, theory and practice). - Dushanbe, 2008, p. 278 - 279