Gates to the Ismail-Ata complex.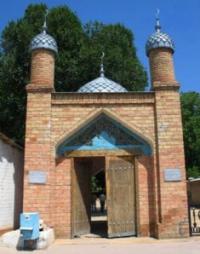 Phototours from Taraz to Tashkent.
«Memory is the treasure house of the mind wherein the monuments thereof are kept and preserved»
Thomas Fuller.
Photos monuments in Shymkent.
The gates to the Ismail-Ata complex date back to the XIXth century and are located in the village of Turbat, Kazygurt district, Turkestan region. Located in the southern part of the architectural complex of Ismail Ata on the main street of the village.
Rectangular in plan, portal domed building with 4 high niches. The walls of the northern and southern facades are revealed by openings over the entire width of the niches. In the southern aperture facing the street, large 2-leaf gate canvases are hung, decorated with carved floral patterns with epigraphic details, with the date of their manufacture - 1886 - 1887.
Parapet of the portal with 2 decorative towers.
Small doorways are made in the side walls of the building, facing the now lost premises.
Authority:
D. A. Taleev. "Code of monuments of the South Kazakhstan region." Architectural and archaeological heritage of the South Kazakhstan region. In the framework of the regional program "Cultural Heritage". http://www.farsah.kz