Glacier of Nura.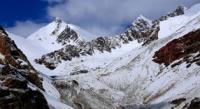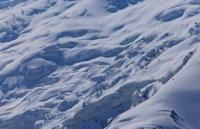 Tourist routes of Osh region.
"How wonderful life is, by the way, and because a person can travel"
I.A. Goncharov.
Photos of glaciers of Kyrgyzstan.
The Nura glacier is located in the Chon-Alai district of the Osh region on the northern slope of the Zaalai Range in Kyrgyzstan. Its length is 5.7 kilometers, an area of ​​9.0 kilometers square. The Nura glacier consists of two streams of almost the same area, flowing towards each other from the west and east. Their feeding areas are elongated along the axis of the ridge. After the merger, they form a short glacier snout with a width of more than 3 kilometers, flowing north. Due to the high dryness of the air, the area of ​​glaciation on the southern slope of this section is much smaller than on the northern (36 glaciers with an area of ​​63.5 km square. The firn line rises here to 5,200 - 5,500 meters above sea level. 35% of the area falls on the Kurumdy glacier, located in a valley protected from the influence of dry and hot winds of the Tarim Depression by the southwestern spur of the Zaalai Range. Two large streams descend along narrow and deep valleys to the south. Their glacier snout are broken by cracks and have icefalls in the upper parts. After merging the glacier turns to the west, flowing all the bottom of the valley from side to side to an altitude of 4480 meters above sea level, below the active end of the tongue lies a field of dead ice of about 3 square kilometers currently separated from it by the riverbed. The surface of the dead ice is dissected by waterways, dips, covered with lakes.
Authority:
"Glaciers." L.D. Dolgushin, G.B. Osipova. Series "Nature of the world." Moscow, the publishing house "Thought". 1989.
Photos
Alexander Petrov.