Glaciers of the Ishtansaldy.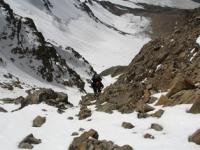 Travel across Tajikistan.
"Though we travel the world over to find the beautiful, we must carry it with us, or we find it not" 
Ralph Waldo Emerson.
Travel to the Jirgital.
The dendritic glacier Ishtansaldy is located in the Rasht region of the Jirgital region of Tajikistan on the eastern slope of the Alai ridge and belongs to the Tandykul river basin. The length of the glacier is 9.8 kilometers, an area of ​​15.7 kilometers square, in the place where it makes a turn to the north, around the headwaters of the Koksu River.
Steep streams of firn and ice descend from the Talbe Pass at a height of 4052 meters above sea level. The lower 3.2 kilometers of the glacier are covered by moraine. Avalanches and firn landslides from the slopes take a large part in the nutrition of the glacier.
Authority:
"Glaciers." L.D. Dolgushin, G.B. Osipova. Series "Nature of the world." Moscow, the publishing house "Thought". 1989.