Grand Park Esil ****.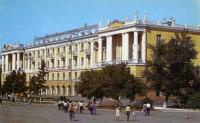 Address: Beibitshilik  str; 8, 473000, Astana, Kazakhstan.
Hotel Grand Park Esil is ideally located in the central square of Astana nearby governmental offices. In walking distance from the Hotel there are the biggest Shopping Center, Banks, Exhibition and Concert Center Congress Hall, Kazakh and Russian Drama Theatres. Such an exclusive and convenient location is one of the most important advantages for any business or leisure travelers and provides a perfect base from which to explore our growing capital. The airport is approximately 20 minutes away by car, and 15 minutes from the train station. Nearby transport: Astana Central Bus Station – 3 km, Astana Central Train Station – 3.37 km, Astana International Airport - 15.9 km
Cost of guest rooms ($ USA):
Single standard room - 170
Twin standard room – 220
The price for accommodation at the hotel including: breakfast, visiting of club of health.
Check in at 12.00, check out at 12.00
Hotel is opened in 2004 year, in hotel of 4 floors.
Hotel offers 132 guest rooms, including   83 standard rooms, 17 deluxe rooms, 13 moderate rooms, 18 suite (two-rooms), 3 suite (three-rooms).
In rooms of hotel is:  air-conditioning, TV (cable TV), telephone, internet, mini bar.
Services of hotel: 126 rooms with air conditioning system, Restaurant and Summer Café Esil, Polo Bar with Live Music, Lobby Bar, Free entrance to Health Club, Laundry and Dry Cleaning Service Business Center, Wireless High Speed Internet Connection, Conference Halls with Special Conference Package – 9000 tenge per person.