Grigoryev Glacier. Terskei Aa-Too ridge.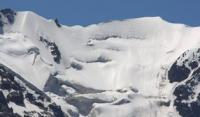 Travel across Kyrgyzstan and Kazakhstan.
"Wherever you go becomes a part of you somehow" 
Anita Desai.
Greatest travel across Tien-Shan mountains.
The 4.0 km long Grigoryev Glacier, an area of ​​8.3 square kilometers, is located at an altitude of 4160 to 4550 meters above sea level, belongs to the Naryn River Basin. On the Grigoryev Glacier, the speed of ice movement varies from 1 - 2 m/year in the central part to 5 – 9 meters per year in glacier flows (Vinogradov. 1962).
The largest flat-top glacier, not only on the Terskey-Ala-Too ridge, but also on the entire Tien Shan, is the Grigoryev Glacier (4.0 km long, 8.3 km square). It is located on the watershed between the valleys of the Kotuntor and Chontor Rivers (Arabelsu River Basin).
Glaciers of flat peaks are characterized by a slightly inclined surface, insignificant thickness and low speeds. Most of them have several flow channels, sometimes to different rivers.
Authority:
"Glaciers." L.D. Dolgushin, G.B. Osipova. Series "Nature of the world." Moscow, the publishing house "Thought". 1989.
Photos by
Alexander Petrov.