Hiking to valley Gorelnik.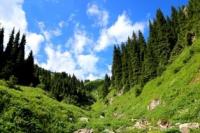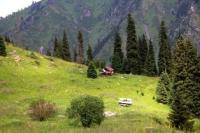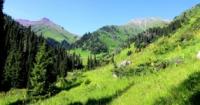 One-day walks in gorges Zailijskiy of Ala-Tau.
«Even in the summer, sending to travel, take with itself warm things, to that you cannot know, what happens in an atmosphere?»
Kozma Prutkov.
Short description of route hiking inSmall Almaty gorge:
Almaty - gorge Small Almaty - valley Medeo - mud dam «Medeo" - valley Gorelnik - falls Top Gorelnik – Eagle neast - Almaty.
Distance of route: 38 km.
Season: from May 1th till October, 30th.
 Best time for excursion: May, June, July, September.
Advanced reservation: for 48 hours.
Duration of the hiking: 1 day.
The detailed program of hiking natural sights near Almaty:
Rock Tour from Almaty to Tien-Shan.
Transfer: Almaty - valley Medeo (15 km). Our way from city in valley Medeo conducts on the south on the central street of city - Dostyk, after valley school is passed Spa centre «Luxor» which is to the right of road, then passed numerous cottages on both parties of road, further to the right of road, on turn on Kamensk the plateau is luxurious hotel "Roal Tulip".
Further we pass construction an ecological post at which now will be new earmarking. Right at the beginning of valley Medeo to the left of road there is first station cable way, travelling on which it is possible to get on ski resort Shymbulak.
After station cable way stop at skating rink Medeo, short walk to the central input of skating rink. Transfer: valley Medeo - mud dam «Medeo» (3 km). Stop on mud dam, the beginning of construction of dam has been begun in 1966 for protection of city from dangerous mudflows formed highly in mountains.
View of vicinities of valley Medeo from height of dam, from here opens good kind on skating rink Medeo which bowl is located in the middle of gorge. Slopes of gorge on which are well visible lay tumbled down Tien-Shan to fur-tree after heavy hurricane on May, 17th, 2011.
Transfer: mud dam «Medeo» - valley Gorelnik (2 km). From dam our way lays to the beginning of valley Gorelnik whence we begin our pedestrian walk. Hiking: the beginning of valley Gorelnik - falls Top Gorelnik (3 km). The footpath begins steep slope among Tien-Shan fur-trees, approximately through one kilometer gradually the track becomes more equal and leads us to an old small house which is on the Alpine meadow among fur-trees, on an eminence on the right, on southern slope behind trees one more house is located.
Soon, passing an extensive Alpine meadow above which, to the left of track there are parking tourists we come to stream Kumbel-Su of 2205 meters above sea level which flows down from under mountain Kumbel.
Further the track leads us to the river Gorelnik of 2330 meters above sea level, here picturesque place and it is possible to receive good pictures of vicinities. The track hiking the river Gorelnik and we begin rise on track which is laid on the left, steep coast of the river Top Gorelnik and soon leads us to a falls Top Gorelnik 2395 meters above sea level.
Rest in vicinities of falls, photographing.
Hiking to place tourists "Eagle neast" (1 km). From a falls the track begins sharp rise on slope and soon we at the tumbled down old fur-tree at place Eagle neast of 2505 meters above sea level. Walk in vicinities, photographing of landscapes, walk on panoramic platform with which opens kind on northeast part of gorge Gorelnik. Lunch. Rest.
Returning to the beginning of valley Gorelnik (4 km). Transfer to Almaty.  
Note:
The author program is Alexander Petrov. Copying and introduction -  from the sanction of the author  petrovsra@mail.ru
Alexander Petrov
photos.