History of Turkestan in manuscripts.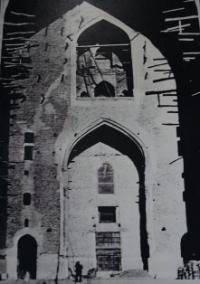 History of Turkestan.
"I've known rivers:
I've known rivers ancient as the world and older than the flow of human blood in human veins. My soul has grown deep like the rivers" 
Langston Hughes.
Mausoleums in Turkestan.
The ancient name of the town is Yassy, since XVI century – Turkestan. Until the nineteenth century it was the residence of Kazakh khans. According to the materials of the archaeological studies, the time of the town foundation is approximately the middle of the first millennium A.D.
Before the Mongolian invasion in XIII - XIV centuries, the territory of the town included only Kultobe Square and the adjacent area. The territory where today there is the khanaka of Akhmed Yassaui was the cemetery of Yassy settlement. After the fall of Shavgar, Yassy as the result of the invasion of Karakytai became the centre of the area and the main trade point on the road to Shymkent and Sygnak.
The location of the town on the ancient caravan road (the branch of Great Silk Road), the trade rode between Deshti Kypchak and agricultural oases of Central Asia (Khorezm, Shash (Tashkent), Bukhara, Samarkand), nice geographical location, pilgrimage to the grave were promoting the trade and development of the settlement.
Fifteen centuries have swished above the lombardy poplars of Turkestan. During this time the land, grey with wormwood, has seen a lot, has lived through a lot. Vth century of the Chrestian era. We try to date the foundation of the town at this time.
What was it, this time like?
Authority:
 Book "Turkestan" R. Nasyrov, Oner Almaty, 1993."Zhetysu is the Land of  tourism". A Tourist Guide-book. Almaty.  2003. 68 p. and the material for this page is taken from the printed edition.