Ishrat-Khana mausoleum.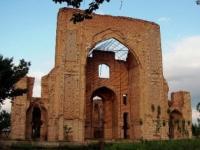 Automobile routes on architectural monuments of Uzbekistan.
"If diversity is a source of wonder, its opposite - the ubiquitous condensation to some blandly amorphous and singulary generic modern culture that takes for granted an impoverished environment - is a source of dismay. There is, indeed, a fire burning over the earth, taking with it plants and animals, cultures, languages, ancient skills and visionary wisdom. Quelling this flame, and re-inventing the poetry of diversity is perhaps the most importent challenge of our times" 
Wade Davis.
Excursion to Ishrat-Khana mausoleum in Uzbekistan.
The mausoleum of Ishrat-khana is located northward from Abdi-Darun mazar on the road going from the center of Samarkand eastward to Firuza gates. "Ishrat-khana" means "House of joy" or "House of pleasures".
According to the legends, it was a palace of Amir Temur's wife, beauty Bibi-Khanym. It is said that initially it was constructed as the mausoleum for the queen.
However, when the construction was completed, Amir Temur so admired at him, that exclaimed: "Let it be our Ishrat-khana, and we shall build another mausoleum at some other place".
The legend about the palace gave a reason to assume that Ishrat-khana was one of Amir Temur's country palaces. However, the palaces for entertainments were not built beside cemeteries and sacred places.
 Besides that, Ishrat-khana originally had the underground burial chamber. Actually, Ishrat-khana formed a necropolis for women and children from the Temurids, built in Bugi-Firuza garden in the second half the XV century.
It was constructed almost synchronically with another Samarkand necropolis – Ak-Sarai, male Temurid necropolis. The building has a high central hall, crossed in plan. The system of crossed arches, thyroid pendentives and stalactites forms transition to the internal dome.
Above it, the external dome was installed on well-balanced drum. At both sides of the hall, there are utility rooms, mosque and mion-serai in two floors. Stepped passage from ziaratkhana goes downward to octahedral crypt with numerous depositions.
At the sides, the facade has well-balanced two-storey loggias. Cut bricks and inserts from mosaic cartouches as well as mosaic fillings at arch tympans form the exterior decor. In interior is decorated with mosaic panels, paintings on walls and plafonds in a technique "kundal", in the central hall - with abundance of gilding.
The burial chamber contains twenty-three female and children depositions. According to written sources, the mausoleum was founded by the Temurid governor, Abu-Sa'id (1451 – 1468 - 1469).
It is known, that around 1464, his wife Habiba Sultan-begim initiated construction of a mausoleum with a blue dome for her daughter Havend-Sultan-bika.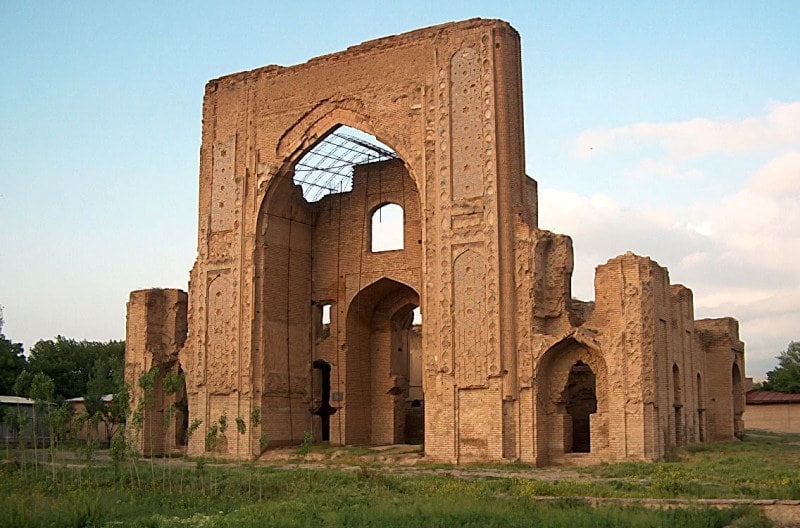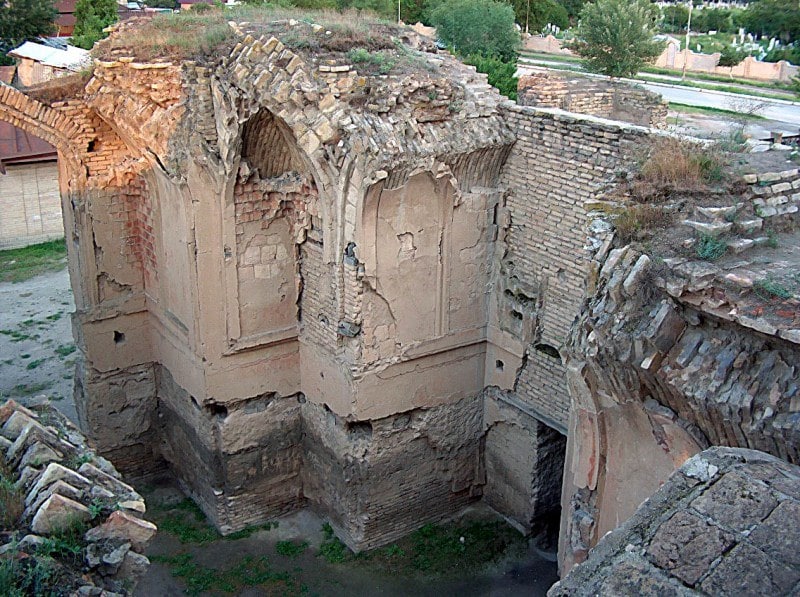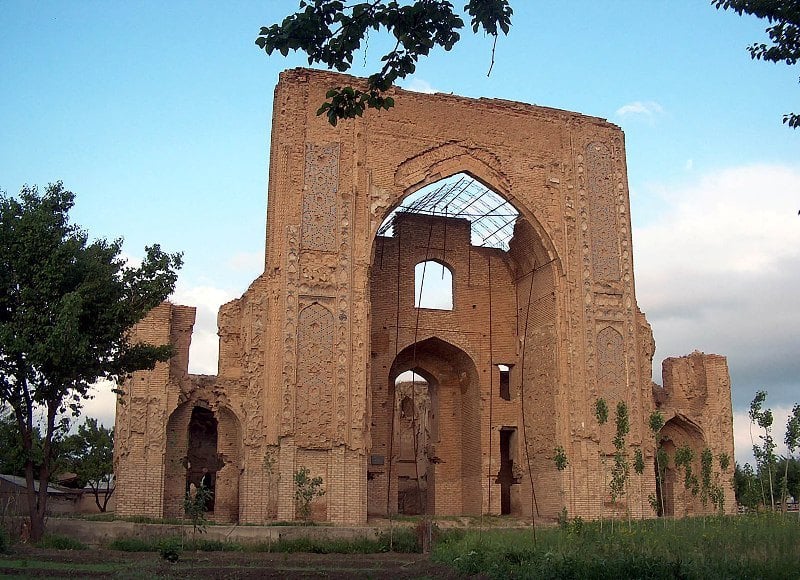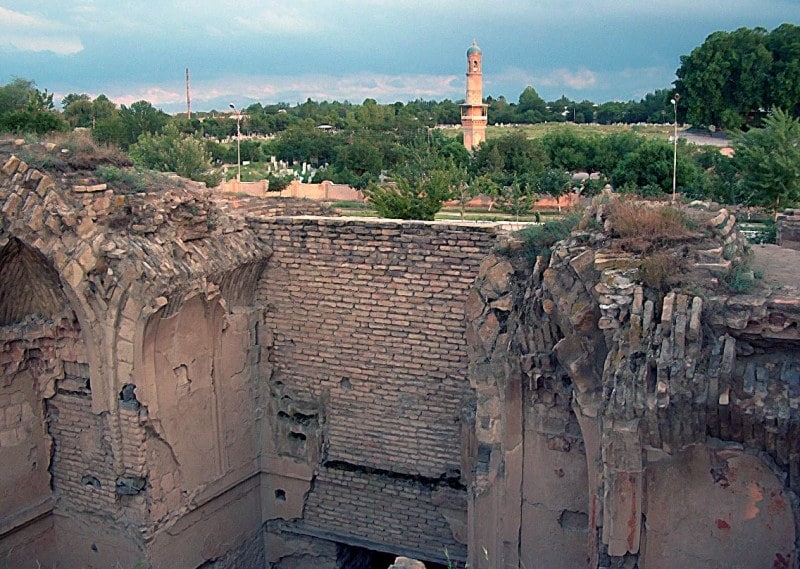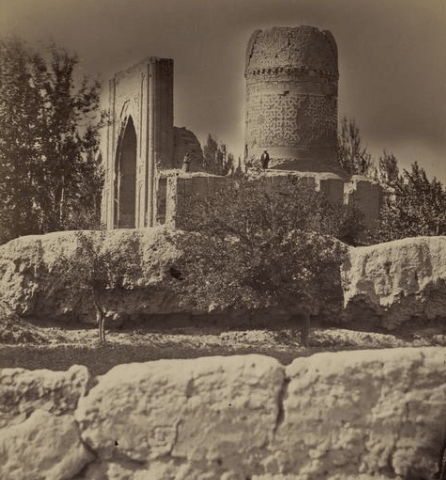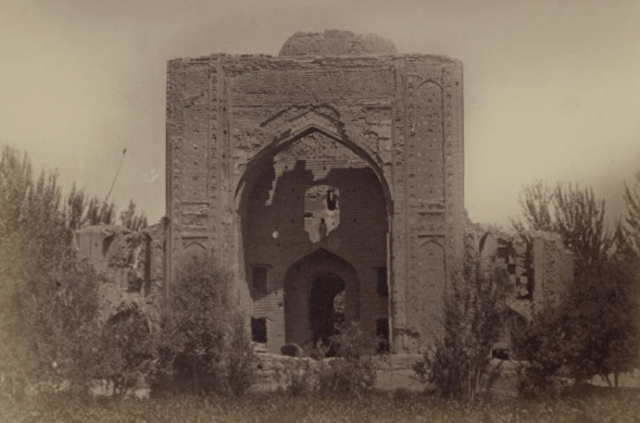 Authority:
Alexey Arapov. Samarkand. Masterpieces of Central Asia. Tashkent, Sanat. 2004
Photos
Sergei Mikhalkov.