Katta-Ashutor ridge.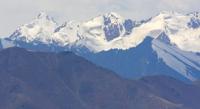 Katta-Ashutor ridge in Sary-Jaz mountains.
"Deserted mountain.
There is not a soul
The day is in a hurry to send guests home.
If I gallop to the top
Below I will see a house alone in the wilderness."
Mukagali Makatayev. Novella "The Year Who Gave Verse".
Glaciers in Katta-Ashutor ridge.
The Katta-Ashutor ridge is located on the northern slope, in the eastern part of the Sary-Jaz ridge, in the mountains of the Central Tien Shan in the Raimbek and Kegen districts of the Almaty region and in the Ak-Suu district of the Issyk-Kul region of the Republic of Kyrgyzstan.
The main ridge of the ridge stretches for 28 kilometers from an altitude of 5437 meters above sea level to the Western Ashutor River from the south-east to the north-west. The height of 5437 is located 2.2 kilometers in the east and slightly north of the Semenov peak, 5816 meters above sea level, in the eastern part of the Sarydzhaz ridge.
The western edge of the Katta-Ashutor ridge is the western edge of the Semenov glacier, which stretches from north-west to south-east for 19.7 kilometers. The northern and northwestern border of the ridge is the valley of the Western Ashutor River with a length of 11.2 kilometers, which is the right tributary of the Sarydzhaz River.
The southern border of the ridge is the main ridge of the Sarydzhaz ridge in the vicinity of Semenov Peak, height 5437 and the headwaters of the Semenov Glacier. The ridge is the state border between the Kyrgyz Republic and the Republic of Kazakhstan.
The southern part of the ridge is under extensive glaciation, the glaciers flow down from the main ridge to the west and to the east, forming valley glaciers. In the northwestern part of the ridge, on the territory of Kazakhstan, there is the Ashutor glacier, which consists of two branches: Ashutor West with a length of 4.6 kilometers and Ashutor Vostochny with a length of 5.4 kilometers.
On the territory of Kyrgyzstan, at the westernmost end of the ridge, there is the Ashutor glacier, which consists of three branches. The Bayankol Western glacier, 11 kilometers long, flows down from the northeastern slope of the ridge.
The Katta-Ashutor ridge is a watershed between the Sarydzhaz rivers in Kyrgyzstan and the Bayankol rivers in Kazakhstan.
Geographic coordinates of the Katta-Ashutor ridge: N42 ° 18'35.35 "E80 ° 06'38.34"
Authority and photos by
Alexander Petrov.